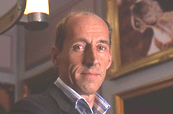 The restructure, which is due to be announced next year, has been designed to strengthen Naked's UK operation.

Under the new arrangement, the roles of Niku Banaie and Jo Pearce, both managing partners, are unlikely to exist. However, both are understood to be in discussions about new roles within the agency.

Collin and Pollard, who are currently involved in Naked's overseas operations, will work with Chris Green, the UK managing director, with a view to bringing the UK offering in line with Australia and the USA.

The restructure, the agency's third in three years, is being led by Green and overseen by Nigel Long, the group chief executive officer.

Naked declined to comment on the news.

Separately, Matt Hardisty, the global creative director of Naked, has left the agency after seven years to pursue other interests. Hardisty has been the global creative director of Naked since March 2006, when he was promoted from the head of innovations. He joined Naked as its first employee in 2000.