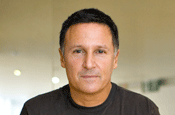 Naked has been accused in the past of being "all mouth and no trousers", of having scant substance to support its strategy. Now, its critics and fans will get a tantalising flash of britches as the agency tries on a new creatively led positioning.
Malcolm Green, the former executive creative director at Delaney Lund Knox Warren & Partners, will head a division charged with executing Naked's creative ideas.
Despite its excitement, Naked is cautious about revealing too many plans, which could suggest that it still has a long way to go until the idea is fully working or profitable.
Essentially, though, the division will create content for clients by collaborating with talent outside advertising, drafting in professionals from other industries such as film, music, technology and design to work on projects for clients when their services are required.
This way, Green says, the model has an edge over traditional ad agencies when it comes to providing alternatives to the 60-second spot, because it is breaking the old confines around creativity in advertising. "Lots of different people want to get out of the ad-based mindset, but the structure won't let them," he says.
The model is also cost-efficient, he believes, because Naked is not lumbered with the overheads of traditional agencies, such as building client relationships, planning and account handling.
However, Tim Lindsay, the president of TBWA\UK & Ireland Group, believes these skills are essential to produce great work. "They are just bolting on creative. It takes more than that to do work that is acceptable. When you are working with your own people, you get proper commitment and involvement. But dealing at arm's length with freelancers is completely different," he says.
There have also been questions raised about the hiring of Green, arguably part of advertising's old guard, to such a creative and entrepreneurial position.
But Will Collin, a partner at Naked, is sticking by the decision. "After leaving DLKW, he learned new skills, such as film-making, that other creative directors don't know," he says.
The Naked team believes the change in direction is a natural progression for the agency. But it can't be ignored that content is a much more lucrative proposition than merely selling strategy and the agency's new Australian owner Photon is bound to be leaning on the agency to improve its profits.
However, some argue that the model will only attract smaller companies that don't demand a consistent volume of work, and that Naked will struggle to tempt big clients - and big pay packets -out of big agencies.
Lindsay says: "Media agencies have been offering 'creative services', rather furtively, for ages and without noticeable success. There's nothing new here."
But Jane Geraghty, the managing director at Naked, argues they have the potential to appeal to every advertiser: "The nature of our clients is world-class. I don't think that will change, and other clients are always looking for change."
While Naked has much to gain, some suggest the new model could also alienate those creative agencies with which it has collaborated. It seems that the agency's success will depend on whether non-Naked clients are truly ready to embrace the model and if the agency can creatively live up to its promises.
MEDIA STRATEGIST - Nick Emery, chief strategist, Mindshare
"Yes, which is why we did it and it's nice to see Naked following us, albeit on a smaller scale. However, we don't see the answer as hiring advertising agency creatives and outsourcing the product.
"Crucially, clients need big ideas and an agency with scale and resources to deliver integrated teams and accountable solutions -niche ideas and 'small is beautiful' doesn't shift product.
"So, yes to a new model and yes to open source, but a different type of creative product - clients have some very good ad agencies, they need ideas that are rooted in media and that create new platforms and revenue streams."
AGENCY HEAD - Stef Jones, founding partner, Big Al's Creative Emporium
"Does the market need an agency that produces strong creative ideas at a lower cost than the traditional agencies? Definitely.
"Would it welcome a model that allows ideas and productions to flow faster and smoother than the old model? Absolutely.
"Is harnessing the wealth of talented freelance creatives, producers and hungry young companies, keen to establish themselves, a smart way to go? Without doubt.
"Naked's clients could benefit from this model. But it's not new; there are a few of us out there doing it already."
AGENCY HEAD - Tim Lindsay, president, TBWA\UK & Ireland Group
"Imagine this news story. 'Gary Digby, head of ITV airtime sales, today announced that he has hired Carla Lane to access partnerships with advertising, CRM and web-build specialists, in order to cater to advertisers' marketing communications needs.' Laughable, no?
"And yet Naked's move to hire Malcolm Green has exactly the same (lack of) logic.
"And doing effective creative work takes more than one bloke in one discipline, however many 'partnerships' are 'accessed'. It's harder than it looks, as Naked is about to discover."
MEDIA PLANNER - Jon Forsyth, founding partner, Adam & Eve
"Any model that drives new opportunities for brands to be more creative with their marketing is good. The success of their offering will be the ability to source the best mix of talent and measure its value.
"I love that agency disciplines are blurring. Trying to define what agencies are and aren't isn't what is required. It's about listening to clients' problems and surrounding yourself with the best people to create the best solutions.
"Insecure agencies might see Naked's offering as a threat, but the ones who embrace change for the sake of creativity will see it as a positive move.The more we challenge and create new ways of working, the better."