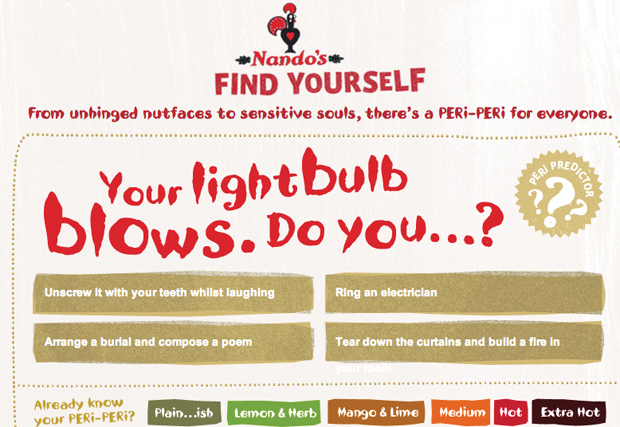 The creative is running messages including "punch yourself to wake up? Hot peri-peri is made for you, spice gladiator", and will drive people to social media channels by including a #findyourself hasthtag.
Wieden & Kennedy created the print, digital and outdoor advertising campaign, while MPG has handled the media planning and buying.
The campaign activity launches this week and is meant to prove there is a peri-peri spice for everyone, whether they are "a sensitive soul, or an unhinged nutface".
People will be encouraged to declare what spice they are via social media and can find the spice they are most suited to via a Facebook app called "peri predictor", which asks a series of situation-based questions.
Twitter users who include the #findyourself hashtag will get a "peri prediction" from @nandos_official, who will ascertain what spice they are by analysing their timeline.
Pretty Green will handle the social media activity that is tied into the campaign.
Nando's will also use its sales data to create a spice map of the country in order to find out which areas of the UK like spicy food the most.
Follow @mattchapmanuk