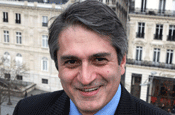 Farrell oversaw all marketing services at Publicis, but the company has appointed Naouri to run just the healthcare group.

Naouri joined Publicis in 1993, when he founded Publicis Consultants, before becoming president of Publicis Conseil in 2000.

Lévy, chairman and CEO, said: "PHCG has built over time a leading position in healthcare communications.

"Nick Colucci, CEO, and his teams are doing an excellent job.

"I am confident that Jean-Yves Naouri will help them accelerate the return to growth."

Naouri said: "I am sure PHCG is best positioned to grasp future opportunities while pursuing its development in the digital arena."

Farrell - once tipped as a possible frontman for the communication giant after Maurice Lévy's retirement - resigned last week.