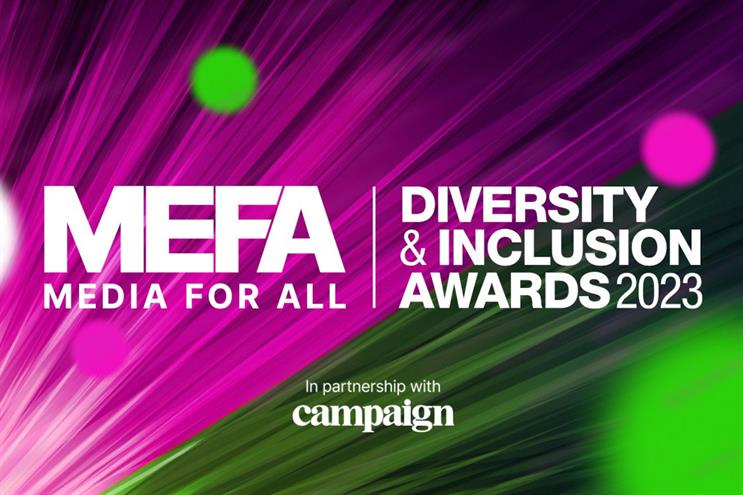 The inaugural MEFA Diversity and Inclusion Awards — held in partnership with Campaign — celebrates advertisers, media owners and individuals who wholeheartedly and authentically champion DEI in their work. They are free to enter and feature six categories, encompassing every protected characteristic including age, disability, race, religion and sexual orientation.


Campaign sat down with Naren Patel, chair and founder of MEFA, to find out the motivations behind the awards, the industry's current relationship with DEI, the kind of businesses and individuals he is most excited about celebrating and more.

Q: What is MEFA and how and why did you start it?

A: Media For All is probably best described as a support community for people of colour in the media industry. Towards the end of 2017, we started to see the stats from the IPA about levels of diversity in the media industry and I was surprised at how low they were.

I began asking people of colour what they wanted; one of the recurring themes cited was a lack of role models within the industry, particularly at senior level. Looking around it suddenly dawned at me that I knew only a dozen people of colour at C Suite.

So, I hosted a dinner for these 12 individuals and we agreed that we needed to do something about it. The industry has some amazing organisations like WACL, Bloom and Outvertising, but there wasn't anything particularly for the people of colour, and this led to the creation of MEFA.

When we started out, we wanted to change the world and had a range of initiatives we wanted to launch, however we all had day jobs so decided to begin with the mentoring program. We now have a community of more than 850 individuals and this year we have matched over 200 mentoring pairs for our annual structured six month mentoring program. The mentoring program has been a key driver of MEFA and aligns with our three pillars; Recruit, Retain and Rise.

Q: What prompted you to launch the MEFA Awards?

A: Having entered and won a few awards in my time, I understand the importance that businesses place on them.

A lot of businesses are putting lots of effort to improve diversity and inclusion and are undergoing a lot of change to make them better places. I believe that the industry needs to recognise businesses and individuals in this space and I hope that in time these awards will become as important as the Campaign and the Media Week Awards.

Q: How would you describe the advertising industry's current relationship with DEI?

A: We have made some good progress, but we still have a long way to go. As an industry we are improving in our recruitment practices and are recruiting far more diverse talent. However, we still have improvements to make when it comes to retention and must focus more on the inclusion and belonging elements. According to the All In Census, people of colour are three times more likely to leave the industry and sadly there has been very little improvement in Black colleagues' feelings about inclusivity over the past two years, despite all the work that has taken place.

Furthermore, Black, Sikh and Muslim women are reporting the most negative experience in our industry. These groups are experiencing 'intersectional discrimination' due to their gender, race, skin colour and religion. We need to listen to these groups and find a solution to ensure they also feel like they belong in our industry.

The All In Census highlighted that there has been incremental improvements in DEI across the board. Businesses are putting a lot of effort in, but unfortunately this is a long-term business challenge which is going to take time to get right. We need to remain proactive and positive so we can collectively continue shifting the dial in the right way. There is a great Bill Gates quote which says: "People overestimate what they can do in one year and underestimate what they can do in ten years." And I think this really applies to improving diversity and inclusion in our industry.

Q: What are you hoping to achieve with the launch of the awards within the industry and societally?

A: I'm hoping that in the long-term we don't need organisations such as Media for All, because we have eliminated bias in the industry and the industry truly represents the communities we live in and serve.

That's my long-term goal. I don't think I'll get there any time soon but even if we could get 60% or 70% there by 2030, it would be great.

Q: Why is it so important that people who champion DEI in the advertising industry are celebrated?

A: At the moment there's no reward for a business that is working hard on being diverse and inclusive. They're probably spending more money on recruitment; they're spending more money on training and although there is a strong business reason for Diversity and Inclusion, I think the industry should recognise businesses who are working hard in this space. We all know how important awards are when it comes to winning new business, attracting talent or retaining existing clients.

People are still uncomfortable talking about race, ethnicity, sexual orientation, gender, and if people are out there on a podium talking about it and pushing the industry to change, we should recognise and reward them.

Q: Who are you looking to hear from for the MEFA Awards?

A: We've got a Hammer Award which rewards people from diverse backgrounds who have broken through the glass ceiling. We've also got the Unsung Hero Award, for those people who work within businesses, sitting on committees, who are really trying to push to change the organisation from within. We also have the All in Champion Award in association with Advertising Association, to recognise those companies that have seen the biggest improvement over the past two years.

But I think the creative awards are the most important as this recognises what we see on the street or on screens. We have a lot more diversity in creative output but I would like to see more authenticity in these campaigns and I think we will have some interesting discussion when we are judging the awards

The awards are free to enter and are open to everyone. We're looking to celebrate the people who are trying to change the industry. And celebrate great work.

Nominations for the MEFA Diversity and Inclusion Awards in partnership with Campaign are now open. The industry is invited to submit nominations before October 19th. The awards breakfast ceremony will take place on November 21st to recognise and celebrate the fearless advocates driving change within the UK media and advertising industry.

For more information about the awards and to submit nominations, please visit www.mediaforall.org.uk/awards.