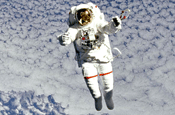 The company, which plans to launch 15 shuttles before the end of 2009, wants to recruit more astronauts to man its exploration programme. The pitch is being run from the US.
The winning agency will create an online ad campaign driving possible recruits to a website, which will host an online flight simulator, among other things.
On Tuesday, NASA's funding was increased by 1.8 per cent to $17.6 billion to enable it to continue exploring the solar system and finish construction of the International Space Station.