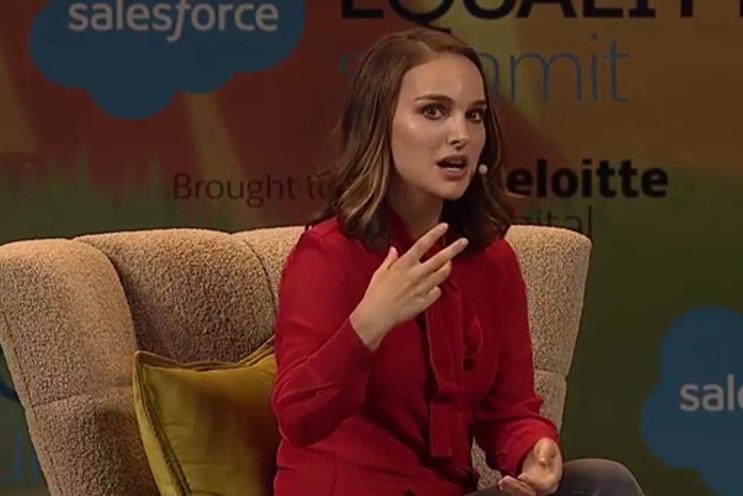 Portman was speaking to Molly Ford, director of global equality programs at Salesforce, at Dreamforce in San Francisco.
Portman said it had been "incredibly powerful" to witness the large numbers of women, and some men, who have come forward to disclose experiences of sexual harassment and abuse in recent weeks.
"I've heard men the past few weeks being like, they want attention, and it makes me so ill to hear that, because people who come forward with these kind of things have nothing to gain and everything to lose by speaking up," Portman said.
"It's incredibly brave and something we really need to foster. Women do not have the practice as much as men do from an early age of being a boss, and being an advocate for themselves and the women around them."
Ford responded to this by suggesting the word "leadershippy" as a replacement for bossy – reflecting the common observation that women who are assertive are more likely to be perceived as bossy than men.
But Portman said: "We can also own being a boss – we need 'boss school' for girls. It's important to know what it is to ask someone in a direct way, in an unapologetic way, to do something because you are their superior, and to be comfortable with that position. It's absolutely an issue of opportunity for women, but also of them having enough practice and confidence."
Her experience of directing the film A Tale of Love and Darkness had been a "huge deal" for her, she said: "The act of saying will you please do this, this is how I want this – it's a very powerful experience and you have to experience it to know what it is."
It was important for women to recognise expectations around how they presented themselves, she added: "I always define myself as part of my identity as, I'm easy, I'm nice, and it took me so long to realise that I wanted to identify myself that way because that's what's encouraged in women and applauded in women. Not to be difficult."
Portman also called for ending the gender wage gap. This was something that each industry needed to do itself, she argued, because of the different ways that inequality manifests, but she commented: "The thing that is consistent is that the methods by which the higher ups calculate people's wages is not really transparent."
On the depiction of female characters, she critiqued the simplistic idea of featuring more "strong women" in film and culture, saying: "Artistically in terms of being feminist, the actual feminist thing is to show women in all humanity – it's not feminist to just show women kicking ass.
"We want to see all types of women on screen. And women who are able to express all sorts of things within the same character. Everyone has ranges of emotion and confidence, and we need to accurately show women in the same range as we've seen men portrayed on screen."