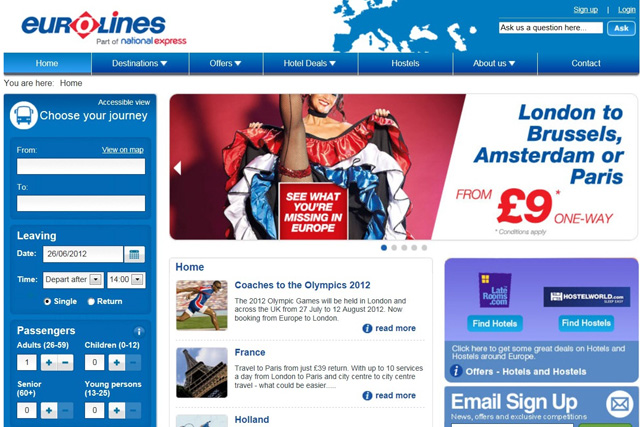 The image on the website was part of a wider campaign – created by Walker Agency – that also ran across outdoor, along with a banner and audio ads on Spotify.
The digital and outdoor ads showed the image of a women in a can-can outfit lifting up her skirt and kicking a leg in the air, with a box positioned over her crotch reading, "See what you're missing in Europe," with further text reading, "London to Brussels, Amsterdam or Paris from £9 one way".
There were several variations of the execution across different media, including an outdoor poster placed inside pub toilets that had a QR code printed in the box covering the woman's crotch in the image.
The campaign received 13 complaints to the ASA (Advertising Standards Authority), claiming the work implied references to sex and prostitution, making it offensive and degrading to women.
National Express defended the campaign by claiming that the ads were promoting low-cost travel to Paris, Amsterdam and Brussels, and that the image "featured a popular stereotypical image synonymous with Paris," adding that no nudity or gratuitous language was used.
The ASA banned the digital and outdoor elements of the campaign that showed the can-can dancer with an image or text box covering her crotch, while outdoor executions that did not make this visual pun were spared, along with the audio ad.
The watchdog said that even though a can-can dancer was likely to be a "well-known cultural reference", the use of a box covering her genitalia with the words "See what you're missing in Europe", implied that she was naked underneath.
The ASA said: "We considered the images of the woman were unlikely to be seen as an implied reference to prostitution, but the use of the visual and verbal pun in the ads about the potential seeing her genital area, was nevertheless likely to be understood to present the woman as a sexual object."
The watchdog said the ad containing a QR code in the box was "likely to be understood to be about the potential for seeing her genital area," which was "exacerbated by the fact that users were encouraged to scan her genital area with a smartphone which had a QR code app".
Follow @loullamae_es