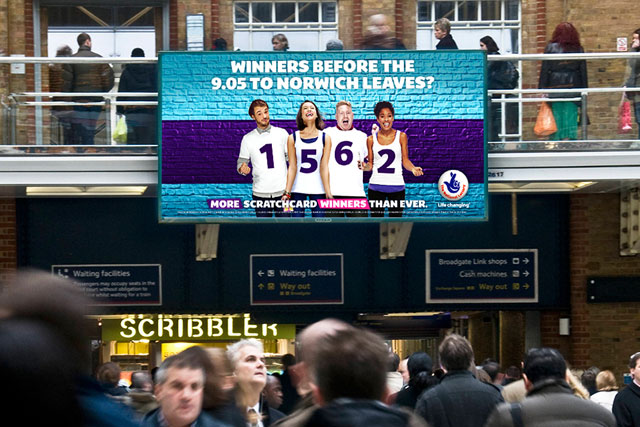 The "surprising numbers" billboards explain how more people than ever before are winning with National Lottery scratchcards, according to Camelot.
The geo-targeted boards reveal the number of people in the UK who are expected to become scratchcard winners before the next train departs, using data from National Rail and Transport for London, cross-referenced with scratchcard data.
They feature an image of people forming a "human counter' that displays data on their T-shirts.
Commuters will see messages tailored to their location and the next departing train, such as, "Winners before the 09:05 to Norwich leaves? 1,562."
The campaign was planned and bought by OMD UK, Havas Media and Talon, with production and technology by Grand Visual.
The train data is syndicated using OpenLoop, the digital out-of-home campaign management system. It pulls in train data before contextualising messages for each individual site and pushing them live to the billboards.
Max Lucas, a media strategy manager at Camelot, said: "Clever use of digital out-of-home technology has really brought this campaign to life.
"We have been able to use our data in a unique way, serving up dynamic, targeted, locally-relevant messages that let people know there are more National Lottery Scratchcard winners than ever."
The messages will run across screens at rail stations and on the London Underground.
Jeremy Taylor, an account director at Grand Visual, said: "The key feature of this campaign is the delivery of contextual information that people can relate to. It is a great example of intelligent use of the medium – providing a dynamic, national outdoor campaign that is highly targeted and locally relevant."
The digital out of home activity is part of a broader drive that includes TV and press.
Additional contextual messages will run on supporting screens along key commuter routes, and on large screens in city centres.
In September, the National Lottery relaunched its revamped flagship Lotto game with an advertising campaign created by Abbott Mead Vickers BBDO, featuring a cover of the 1972 song 'Ooh-wakka-doo-wakka-day' by Gilbert O'Sullivan with new lyrics.