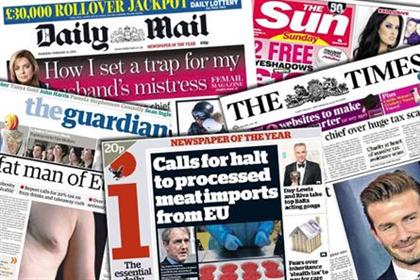 The formation of the Publisher Advertising Transaction System (Pats) has been backed by the IPA Media Futures Group.

In the modern media landscape, where time is at a premium and audiences are delivered across multiple platforms, Pats will streamline transactions and invoicing between publishers and agencies, for all newsbrand platforms, providing information in real time for both sides.
The system will be compatible with all agency platforms including Adazzle, Mediaocean Prisma and proprietary agency software. Pats will be a 'technology bridge' between the agency platform and publisher platform, providing a single and shared point of reference across the transaction process".
Pats will be rolled out across the national newsbrands early in 2015 and will also be extended to include magazine publishers and regional newspapers.
Having already been part of the initial steering committee, WPP's GroupM (GM and Op Co's) continue to collaborate with Pats as development progresses. Publicis (VivaKi, Zenith and Starcom) and Omnicom (PHD and OMD) will also be consulted at key points in the development and will validate the integration of V into agency buying platforms.

"There is a real appetite for a system that improves efficiencies for publishers and agencies and we are delighted that three of the biggest agency groups are already working with us," said Rufus Olins, CEO, Newsworks, the marketing body for national newsbrands.
"You could say this platform is overdue, but arriving as it does now, it will offer access to total audiences, across all platforms, and make life much simpler. It is good to see the newspaper industry collaborating on this important issue."
Tim Neligan, commercial director, VivaKi said: ''We continue to explore enhanced automation, consistency and efficiency in an increasingly complex market and welcome the opportunity to work with Pats on publisher transactions to achieve this goal.''
David Pemsel, deputy chief executive of Guardian News & Mediam said: "The way our readers consume news in print and on mobile devices is evolving rapidly. Today, over 40% of The Guardian's digital content is accessed via mobiles and tablets, and this percentage is growing. We therefore believe it is critical that we deliver a seamless advertising buying and selling experience."
After a comprehensive global review, The NPA and Newsworks selected Mediaocean, the leading software provider for the advertising world, to develop the system.
Sarah Lawson Johnston, Mediaocean managing director Europe, said: "This partnership is a significant market acknowledgment of the value of Mediaocean to answer the demands of media in changing times. We are proud to help Newsworks steward the newspaper industry into this new era."

Caroline Vogt, who was formerly head of insight at Aegis Media and previously worked at Microsoft, has been appointed project director. Brendan Quinn, previously a business analyst and technical architect at Associated Press and BBC, joins as technical director.
Newsworks, the marketing body for national newsbrands, is currently talking to the PPA about magazine brands joining the initiative.