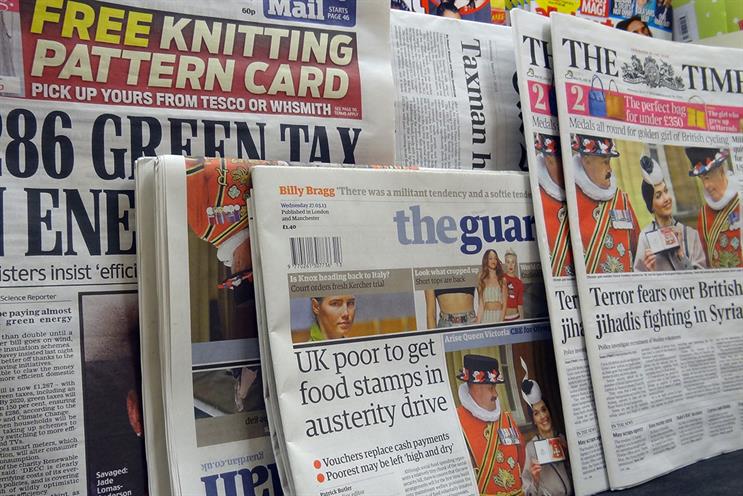 After months of speculation about the initiative, Booth confirmed to Campaign that he was in charge of running a feasibility project, called Project Juno, to assess "what a shared common future" could look like.
Booth, a founder of BLM, which was bought by Havas in 2008 to form the UK outpost of the Arena network and dropped the BLM name in 2010, is working with a team of half a dozen people on the project.
Campaign revealed in May that national newspaper publishers were discussing pooling sales to gain greater leverage. At the time Trinity Mirror had approached Telegraph Media Group, Guardian Media Group and News UK about the project.
Booth confirmed Trinity Mirror, TMG, GMG, News UK, Daily Mail & General Trust and Northern & Shell were involved. He said the team is "heavily resourced given the magnitude of the considerations. No stone will be left unturned."
Although much of the speculation about the plans has assumed the discussions are centered on whether newspapers should combine their ad sales teams, Booth cautioned that this was only one possible outcome.
Booth said: "Structurally the media landscape has changed dramatically. We're working on the assumption that newsbrands could be better represented with a shared agenda than a competitive one. They've got enough competition on the outside.
"You can't ignore the fact this is not cyclical issue but a structural one. No amount of great salesmanship is going to get you out of a hole. Something radical needs to happen. To encourage a reappraisal you need to have something new to say."
Rather than simply leveraging the newspapers combined trading power, however, Booth said his team is looking at what a better proposition for advertisers might be – whether that's improved data or increasing the ease of transaction.
A spokesman for the national newspaper publishers said: "National newsbrands are in the early stages of looking at ways in which we might work together to establish an advertising offering that takes account of the rapid changes in our industry and which will be more effective and flexible for our clients.
"At this time, we are talking to stakeholders in the industry to listen to their views on how such a development might work best for them."
Although this is the first time the publishers have jointly confirmed the project is underway, last month Rebekah Brooks, chief executive of News UK, owner of The Sun and The Times, told Campaign that publishers are "right" to look at joint ad sales to improve their negotiating position amid falling revenues.