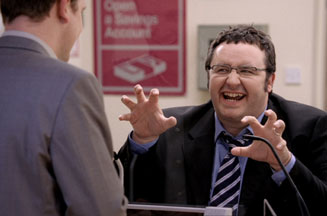 The brand spent £8m on TV advertising last year, according to Nielsen, but in a change of strategy it will now focus on direct-response media, predominantly in press.
The shift follows the arrival of Chris Rhodes as group product and marketing director. Rhodes, formerly director of retail distribution for Alliance & Leicester, who joined Nationwide in April, has ruled out long-term brand-building until the economy improves.
Nationwide's last big TV campaign began in October, and featured its long-standing bank manager, played by actor Mark Benton. It was the final ad in the series commissioned by former head of brand strategy Peter Gandolfi.
Shortly before his departure in November, Gandolfi had called a review of Nationwide's £23m ad account, but this was cancelled and the building society retained Leagas Delaney.
A Nationwide spokes-woman said: 'We always evaluate what we are doing, and we have nothing new at the moment.'
Separately, Nationwide is in exclusive negotiations to renew its £7m-a-year sponsorship of the England football team.