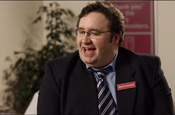 In a twist on previous campaigns, the character, played by comedy actor Mark Benton, will enter a Nationwide branch for the first time to give the campaign a more positive slant.
The ads, by Leagas Delaney, break on Sunday 5 October and will run for an initial four-week burst. In two of the series of five TV executions, the bank manager will be drawn into a Nationwide branch and interact with the staff.
The aim of the campaign is to emphasise the positive qualities of Nationwide's products, in contrast to the negative tone of previous ads, which attacked the methods used by its high-street rivals. However, according to Nationwide's head of brand marketing, Peter Gandolfi, the character will not be changing his ways.
The bank manager character was introduced in the building society's radio advertising, before making his TV debut in a £5m campaign in 2004.
Nationwide is currently looking to recruit a board-level marketing specialist after sales and marketing director John Sutherland recently stepped down.
In May, the brand ditched its 'Proud to be different' strapline after six years, in an attempt to freshen up its marketing.