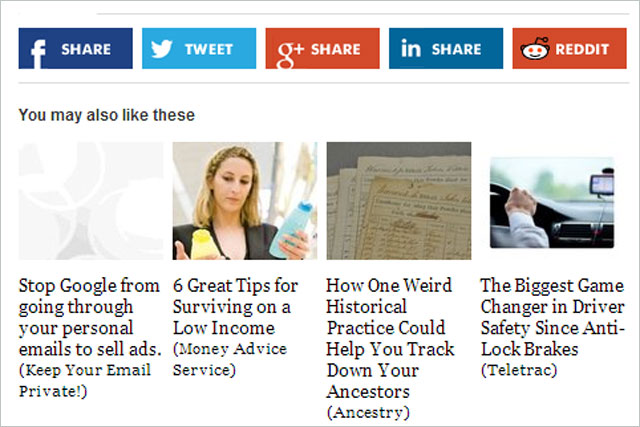 The Advertising Standards Authority received a complaint that questioned whether an ad for related content at the bottom of an article on The Independent's webpage was identifiable as marketing.
The ad contained an image and text under the heading "you may also like these", as well as a link below the ad labelled "(keep your email private)".
Outbrain, which is based in New York, provides content recommendations, including paid-for links to third-party websites or links to other content on a publisher's own site.
When internet users click on a paid-for link, Outbrain and the publisher of the website where it appears share the advertising revenue.
In its response to the ASA, Outbrain said it did not own the websites on which the material it recommended appeared and that individual publishers dictated the "look and feel" of the content.
Outbrain said the content that was the subject of the complaint was paid for by a third party, but that it was not advertising in the traditional sense, but rather "promoted content or stories".
It added that its approach was in line with industry standards and that it used the text "you may also like these" and "recommended by" to identify that paid-for ads linked to third-party websites.
But the ASA ruled that, despite the text, "marketing communications must be obviously identifiable as such" and that Outbrain had not gone to sufficient lengths to ensure that was the case.
The ASA said the ad breached its codes on recognition of marketing communications and misleading advertising and that future advertising placed by Outbrain must by clearly identifiable as such.