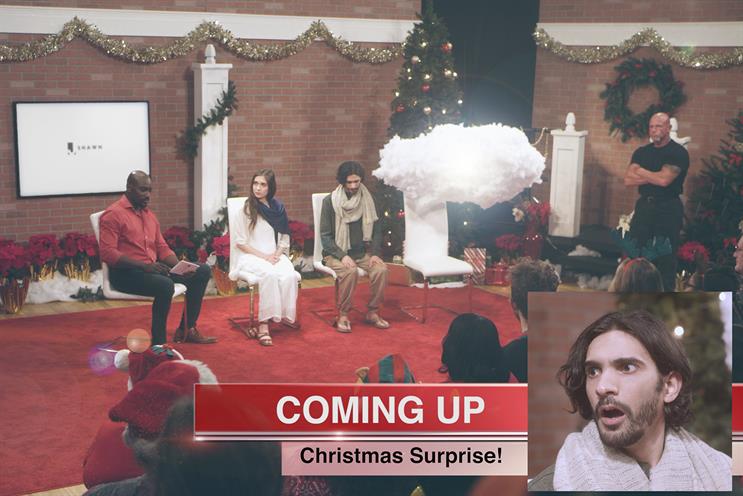 If the story of the birth of Christ happened today, a lot of things about it would be different. Maybe Mary and Joseph would be living in a cramped apartment, the angel Gabriel would arrive in a Lyft and the wise men would be natural-birth doulas. A new long-form spot from Tennessee agency Humanaut makes another suggestion: the holy couple, with their dramatic, unlikely conception story, would probably wind up on "Maury."
That's the narrative in the first-ever advertising campaign for Home Paternity, an Ohio DIY DNA testing company, which follows Mary and Joseph as they appear on a talk show called "Who's Your Daddy" to prove, once and for all, that God is indeed the father.
"Knowing so many brands are trying to make sweet, earnest holiday videos, we just knew this was the opportunity to do something very different that would get traction," said Humanaut CCO David Littlejohn. "We batted around a few other concepts, but at the end of the day, there was only this idea."
Home Paternity brought on Humanaut for their debut campaign based on the agency's record of viral longform videos for emerging brands, most notably Save the Bros, a tongue-in-cheek campaign for Organic Valley protein shakes that earned over 100 million PR impressions and launched the product to the top of its category. In both cases, said Littlejohn, taking a gamble on a bold message was the best way to stretch a newer brand's modest budget. "A client needs to make a big splash and make their dollars go as far as possible. The more shareable something is, the further the budget goes."
How to get consumers to stick with, and then share, such a long video—"it's a very long ad, but very short if you look at it as a cut-down talk show," said Littlejohn—comes down to writing and presentation, not worrying about an ideal length. Humanaut was careful to tell the story itself with flawless accuracy, and commit fully to the gimmick, making it both funnier to general audiences and appeasing to religious viewers who might initially be turned off by the concept.
So far, the reception has been stellar, Littlejohn said: the comments section below the video is full of support from Christians who note how closely the spot follows the Bible, pointing out that Mary and Joseph did indeed face serious controversy when they went public with their claim. "When you tell it in this context, it seems more dramatic and irreverent, but we're really walking through the traditional story," he added.
Approving comments are not a KPI, though; that would be Facebook views. The platform typically reports on three-second engagements, but Humanaut is more interested in ten-second views, and most interested in which videos keep viewers for over 50 percent of running time. Littlejohn said "Who's Your Daddy" so far has "super high" halfway marks, which means it's gotten the message across: "In a three-and-a-half minute video, the branded part is already over halfway in, so the majority of people have seen it."
For agencies working to introduce a blank-slate client–particularly one whose product seems like a hard sell–Littlejohn said the worst thing creatives can do is be nervous, about either the concept or the execution. Make it long if it needs to be long; make it weird or funny if that's what'll stick. Just don't be timid.
"What no brand can afford to be right now is invisible, and so many brands are putting out content that people instantly forget," said Littlejohn. "This work proves to us that customers are ready for this sort of engagement."