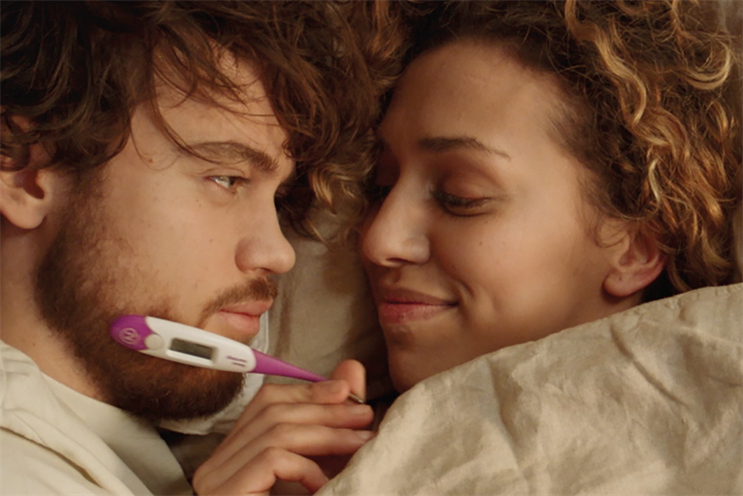 Natural Cycles is the first app to be certified for contraceptive use in Europe. Developed by CERN physicist Elina Berglund, and her husband Raoul Scherwitzl, it uses a sophisticated algorithm to analyse a woman's basal body temperature and calculate her fertile and non-fertile days.
The subscription product now has more than 800,000 users worldwide, with 50% of that subscriber growth attributable to marketing efforts on Facebook and Instagram.
For the product launch, Natural Cycles wanted to position its mobile app as a natural and effective method of contraception in the UK. The aim was to reach as many women as possible in the 25- to 34-year-old age group.
The creative agility plan enabled Natural Cycles to test and learn

In order to reach this audience with the right messaging, Natural Cycles worked with Facebook to build a Creative Agility Plan, which enabled the brand to test, learn and optimise the creative. The Plan helped to determine the best message and creative strategy to engage a broad audience, build trust and open a dialogue around fertility and contraception.

Working closely with Facebook Creative Shop as well as the social network's marketing science and advertising research teams, Natural Cycles' test-and-learn strategy identified the best message and creative execution for its UK launch.

Creative informed by data
By using a structured, split-testing framework on Facebook and Instagram that included measurable data dimensions such as video views and link clicks, it was able to test and learn from fast, iterative production and assessment of creative work.
As a result, Natural Cycles concluded that women were seeking a natural, hormone-free, non-invasive alternative to existing contraceptive methods. This led it to decide that its messaging should highlight the way that the app can cater to a diverse group of women and their unique cycles.
Natural Cycles and its creative agency, h0rseb0y, worked with Facebook's cross-functional teams, allowing them to home in on the brand positioning that would have the biggest impact in the UK. The creative in the campaign harnessed marketing science, audience and advertising research.
The Creative Agility Plan enabled them to identify the most effective messages and creative execution. The "Natural, hormone free & non-invasive" and "Every woman is unique. Every cycle is unique" work performed best, achieving the highest score across 14 different data points, such as clicks and view rates.
Expectations already exceeded
With its Creative Agility campaign on Facebook and Instagram, Natural Cycles proved it was able to predict success when launching a new product.
To date, the campaign has resulted in a 13-point rise in ad recall, nine points in brand awareness and a staggering 127% increase in app registrations.
From TV to facebook: the Swedish campaign
For its Swedish campaign, Natural Cycles partnered with Facebook to adapt the existing TV ads so they would work well with a mobile news feed.
They converted the TV spot's format from landscape to vertical, which suits the mobile screen, and added text, so that the ads could still be understood if viewers had the sound turned off on their phones.
Natural Cycles added clear branding at the beginning of the video and a new campaign tagline: "Your new morning routine". This was developed during a workshop with Facebook Creative Shop.
The ads ran across Facebook and Instagram, as well as Audience Network, which allows advertisers to extend their campaigns beyond Facebook to other apps.
Stand-out stats:
-20% incremental reach on top of TV
-3.6x lower cost per target rating point than TV
- 47% more efficient reach per target rating point than TV-
- 1,000,000 women influenced. The campaign reached one million women in Sweden between the ages of 25 and 54, delivering a higher total reach than TV for 25-to 34- year-old women
Stephanie Underwood, marketing strategy manager, Natural Cycles
"Approaching our very broad audience with a data-driven campaign yielded valuable insight into what women respond to, which will allow us to better meet their needs as we continue to grow as a company.

Overall, the campaign performance exceeded expectations with brand awareness and ad recall increases above benchmark."
Alex Player, digital content manager, Campaign
"Natural Cycles did amazingly well with its Facebook campaign. Initially launched as a TV ad by women, for women, Natural Cycles successfully ported this campaign to mobile to increase brand awareness. It certainly managed that, with a huge 47% increase in its efficiency reach compared with its TV marketing, and at a big reduction in cost."
Ludvig Hedlund, client partner, global marketing solutions, Facebook
"This project has been a great learning journey. We have been pioneers in how to work with agile creative development in a data-driven way, which will be incredibly useful for making marketing more efficient in the future.
By using this framework, we are now ready to enter new markets in a successful way for Natural Cycles."
To see this campaign and other great work, check out Facebook's Creative Hub.