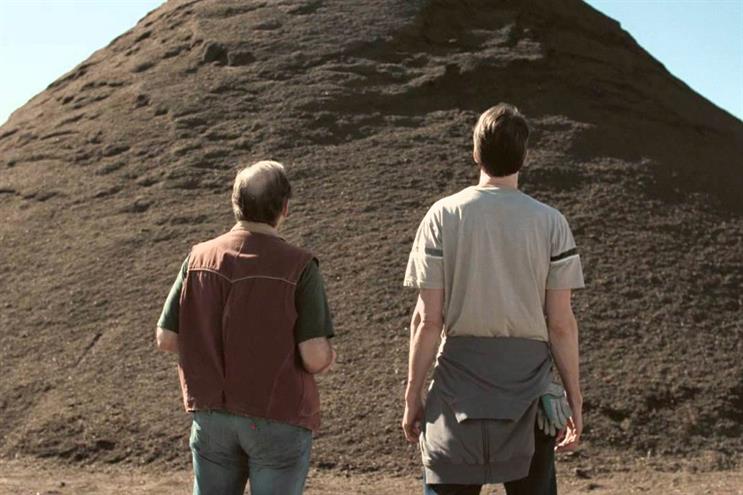 Most people think of story book scenes of blooming flowers when it goes to gardening. In a series of spots by Barton F. Graf 9000 for Nature's Care Organic Garden Soil, a pile of the dirt is the star.
The 40-foot pile of dirt represents Nature's Care Organic Garden Soil (a division of Scotts Miracle-Gro, which also launched a "springmoji" campaign today). Two men wonder in a deadpan style what's inside of it and what happens when it rains.
Each ad ends with "That's some good dirt." The first commercial aired this week, followed by two others to debut over the next couple weeks.
The TV campaign is supported by a digital campaign across Pinterest and a future contest to guess the amount of dirt in the pile.
<>
Campaign credits
Client: The Scotts Company LLC
Agency: Barton F. Graf 9000
Founder/Chief Creative Officer: Gerry Graf
Partner/Executive Creative Director: Scott Vitrone
Partner/Executive Creative Director: Ian Reichenthal
Creative Director/Art Director: Amanda Clelland
Creative Director/Copywriter: Nick Kaplan
Head of Production: Josh Morse
Producer: Erica Kahr
Account Director: Yvette Ames
Account Supervisor: Kimmy Cunningham
Production Company: Biscuit Filmworks
Director: Matt Dilmore
Managing Director: Shawn Lacy
Ex. Producer: Colleen O'Donnell
Line Producer: Peter Slowey
Editorial Company:Mackenzie Cutler
Editor: Gavin Cutler
Asst. Editor: Pamela Petruski
Ex. Producer: Sasha Hirschfeld
Color: CO3
Colorist: Tim Masick
Mix: Heard City