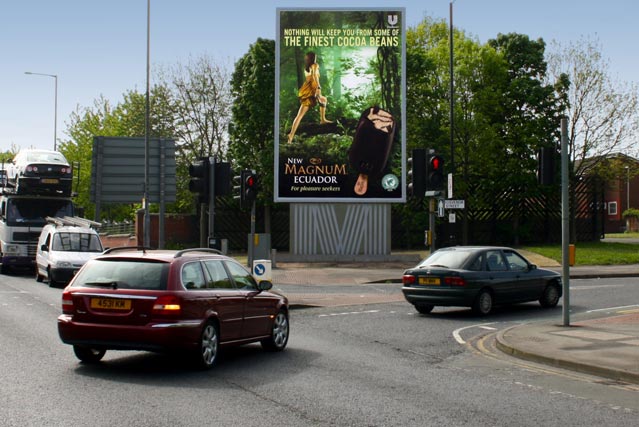 MediaCo was appointed to Manchester City Council's large-format outdoor contract last October, after a pitch against major outdoor media owners, understood to include incumbent Primesight, as well as JCDecaux and Clear Channel Outdoor.
Since MediaCo took over the ad sales contract, more than 100 sites have been removed and replaced with 26 sites, including five Mega-6s, 15 back-lit 48-sheets and six back-lit 96 sheets. Microsoft and Magnum are also among the advertisers on the sites.
The flagship Mega-6 displays incorporate the Manchester M logo, created in collaboration with designer Peter Saville, while the whole portfolio uses energy saving LED illumination.
There are plans to extend the portfolio to 40 sites, including five digital. Joe Arshed, director at MediaCo Outdoor, said: "The idea is 'less is more'. We now have a smaller portfolio with only the best locations."
Sir Richard Leese, leader of Manchester City Council, said. "These will be the most sophisticated hi-tech sites in the country. As a network that will generate money for the council, it represents excellent value for Manchester in the years ahead."
A spokesman for MediaCo said the network had the potential to deliver more than 11 million opportunities to view over a two-week period and included many of the key arterial routes in and out of the city of Manchester.
MediaCo Outdoor was set up by MediaCo, a large-format print company, and Arshed, a former head of Pinnacle development at Clear Channel Outdoor.
Arshed said: "We have set out to create a portfolio that is befitting of a world city renowned for its modernity and vibrancy.
"Our aim is to add value to the out-of-home market by creating a media proposition that is near perfect in terms of location, orientation, distribution and presentation, and we expect to generate strong sustainable revenue for the council and our business."
MediaCo Outdoor's other contracts include the sales for outdoor advertising at Wembley City.