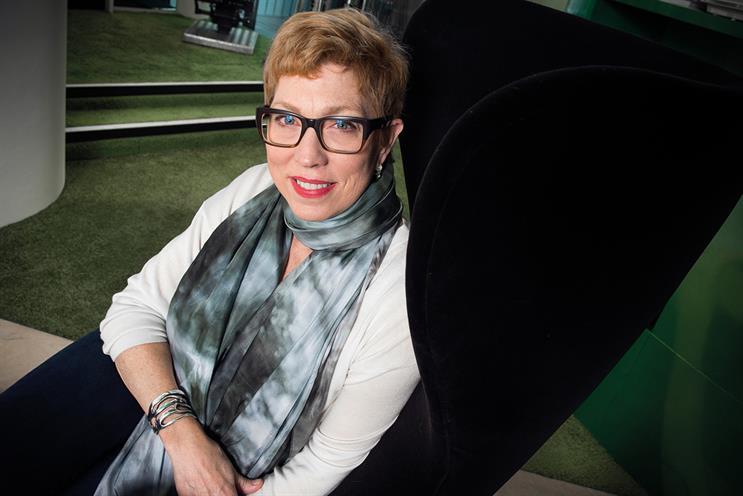 Google's staff canteen is a flurry of trendy young things queuing for samosas and strawberry daiquiris. It's a special edition of the weekly Thank Google It's Friday free beer and pizza session, in honour of the tenth birthday of Google Translate.
Campaign is here to meet Eileen Naughton, Google's UK and Ireland managing director of sales and operations. She arrived almost two years ago, unsure of how her extensive US media experience might translate here. "I didn't really know what to expect," Naughton says. "A female, almost six-foot-tall American redhead with an Irish name going to the UK to run their UK business. But I've felt very welcome."
Naughton certainly seems to have settled in, hosting tables at Wacl dinners and regularly appearing on podiums. At last year's Brandcast, YouTube's agency event, she told brands that they should shift 24 per cent of their TV ad budgets for 16- to 34-year-olds to YouTube. At Advertising Week Europe last week, Google was at it again, with research claiming that 77 per cent of campaigns generated a higher return on investment on YouTube than TV.
It's a melee that shows no sign of abating. But when Campaign brings up Thinkbox's study published in response to the 24 per cent figure, Naughton is taken aback – questioning whether Campaign is here to interview Thinkbox or Google – despite the fact that YouTube keeps publicly trying to grab ad pounds from TV.
She is on more comfortable ground discussing how brands have become "enchanted" by the value of YouTube. In the UK, YouTube viewing increased by 60 per cent in 2015 and – rather neatly – the UK's top 100 advertisers also increased their spend on the platform by 60 per cent. Naughton says this is because brands have found YouTube a "rich environment to make valuable connections" in a respectful way.
"I think where Google has served consumers and advertisers really well is in designing algorithms," Naughton explains. "Computer science has helped make a really relevant match between a query or an interest or a behaviour and an ad message."
Google now employs 1,000 engineers in the UK, a quarter of its overall workforce here. It will start moving out of its offices in Victoria and the West End to a new campus in King's Cross – an area with an "energy you can feel" – later this year. The London Google campus represents an "enormous commitment" both financially and mentally to the city, Naughton says, recognising London as a "really great hub for talent".
That Google has failed to commit financially to the UK by excluding most of the advertising revenues generated here in its UK accounts (it bills clients in Ireland) is well-documented. Naughton says the anger towards Google is "emotional" because it's not based on fact. She stresses that the company cannot pay more tax than what HM Revenue & Customs assesses it is owed or it would face a shareholder lawsuit. "If the law were different, we'd pay more tax," Naughton adds, reprising the defence Google made to MPs about its £130 million tax settlement in February.
"We can't voluntarily pay HMRC more money than we owe HMRC," Naughton continues. "British Petroleum does not pay the US tax authorities based on the amount of gasoline it sells to Americans. If British Petroleum paid more tax based on their revenues in the US, HMRC would receive a lot less tax from British Petroleum, which is a British company. It's international tax law. Google didn't set the law."
But the comparison with BP – as the company has been known since 2000 – is complicated. BP is liable for production taxes on the oil and gas it extracts in the US and paid $1 billion in US taxes last year.
Critics aren't swayed by her BP comparison, even if Google's behaviour is lawful. The tax barrister Jolyon Maugham QC claims Google "consistently arbitrages weaknesses" in the tax system in different countries, including the UK and the US, to avoid paying "the 'right' amount of tax".
It seems marketers working with Google are able to put any questions about tax to one side. And although some sources say Naughton can appear arrogant, that's a comment lodged at many Googlers. Karen Blackett, MediaCom UK's chairwoman, says Naughton is the "lead example of a new wave of Google execs that are about collaboration".
Naughton has charmed media owners too. David Pemsel, the chief executive of Guardian Media Group, says Naughton's background in publishing – she is a former Time president – helps her work. "Eileen is very bright and personable," Pemsel says. "She has the right balance of understanding how Google works and she's spent a huge amount of time getting to know how the UK works. She's a good navigator."
Naughton gives an impassioned defence of Google's tax affairs. But it is also clear that she wants to understand the industry's needs. Given Facebook is now billing some of its ad clients in the UK, time will tell if the industry will continue to understand Google's argument.