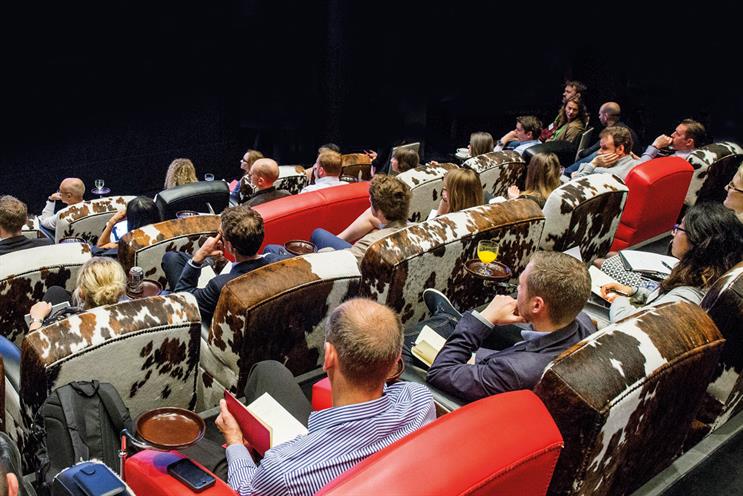 The fact that it was standing-room only in the packed Soho Hotel theatre was testament to the fact that UK publishers are still wrestling with how to make the most of digital.
Faced by a plethora of challenges, there was certainly plenty to ponder at the 2016 Brightcove Publishers' Forum, in association with Campaign and Media Week.
Print circulations and advertising revenue are declining at an accelerating rate. Meanwhile, desktop traffic is shifting to mobile, and intermediaries such as Google and Facebook are ever-more powerful, accounting for 55% of digital budgets. To top things off, consumer attitudes are also hampering publishers, with the growing adoption of ad-blockers.
However, with challenges come opportunities, and new platforms are also opening up new ways of engaging with consumers, particularly in the field of video, which is the fastest-growing area of digital. Traditional publishers are able to offer a TV-like experience to viewers who increasingly consume content when and where they choose, and across a range of devices.
Although consumers are more demanding, technology is also allowing publishers to learn more than ever about their audiences, with corresponding opportunities to provide a better service to brands seeking to engage with them.
But all of this is still frontier territory.
As more than one speaker pointed out, nobody has done this before – there are no roadmaps. The only guide is the experience of those who are doing it, and with this in mind, the Forum assembled a selection of experts from across the board in publishing, technology, social media, and media.
Here are some of their insights.
Piers North
Strategy director, Trinity Mirror
"Publishers are facing a perfect storm, and they can't fight it. They must learn to navigate it, because it's not all gloom."
To find a route through this perfect storm, publishers need to adopt new tactics. There is still a huge opportunity for the big ones:
• Remember that your core business is content, rather than trying to be all things.
• Get comfortable with the idea of "digital first" and adapt processes and talent accordingly. The idea of partnering with Google and Facebook shouldn't be anathema – bite the bullet to potentially reach massive audiences.
• With video, think about the balance between cheap, quick, low-quality content and higher quality.
• Spot ads will continue, but a more diverse approach involving experiential events like the Pride of Britain Awards, and sponsorship, will be required. Look beyond display to non-standard revenues such as subscription and affiliates.
• Vice Media chief executive Shane Smith has predicted a bloodbath in media over the next year. Consolidation will occur, and where you cannot consolidate, there needs to be greater cooperation, as witnessed between Trinity Mirror and Telegraph Spark on Aldi.
• Publishers need to segment and understand their audiences better – you cannot be a dumb publisher and survive. Programmatic and data will become even more automated.
Nick Harthan
Global product partnerships, Google
"People use apps when connectivity is an issue – 40% abandon a page if it takes more than three seconds to load, and 60% of users distrust a brand that has a poor web experience."
Mobile traffic overtook desktop in 2015, so it's not surprising that many publishers have gone down the app route, as opposed to the mobile web. However, apps have to be discovered and installed, and there is a re-engagement issue. In reality, most people use only a handful of the apps they install.
The stumbling block for the mobile revolution is slow page-loading – viewers jump to another page if it takes more than a few seconds. Google is collaborating with publishers and technologists on the accelerated mobile pages (AMP) programme to build a sustainable publishing ecosystem.
AMP is looking to change the way search is shown, providing an alternative that is fast, easy to implement, mobile-friendly and embraces the open web. It is four times faster, uses 10 times less data, has 7300 developers engaged, and is being driven by organic adoption.
Used for news pages at the minute, it serves up a carousel of news options, and it will move into verticals such as sport, food and finance. Publishers can launch progressive web apps off the back of it. These do everything an app can do off the browser, with engagement metrics that are similar or better than apps.
Giuseppe Covato
Chief technology innovation officer, La Stampa
"Readers continue to value the role of traditional publishers, particularly when
it comes to big news stories."
A survey of the readership of La Stampa examined attitudes to traditional and digital products. It found that readers appreciated the sense of hierarchy in a print newspaper, which made it clear what was important in terms of news values. At the same time, people also want completely free content, with the use of ad-blockers becoming more prevalent.
Content is atomising. Companies such as Twitter are already putting together editorial teams and in future their content will be virtually indistinguishable from that produced by traditional publishers.
However, when it comes to a story like the Paris attacks last year, traditional news has a leading role. Although many of the early reports came through social media, this presents problems with validation. What can you trust? How accurate is the information?
La Stampa is creating a platform to allow such social content to be verified by its own journalists and those from other news organisations. The platform, known as Verified News, will be open source and is due for launch at the end of the year.
Leon Siotis
Managing director, UK and Southern Europe, SpotX
"Stop talking and just do it. Don't wait until it's perfect. It's easy to get caught up in the planning process."
Video is the fastest-growing area of digital, and programmatic is driving it. In 2020, the programmatic video market in the UK will be worth £450m, up from £65m in 2014 (IHS study).
Media plans have changed from being lists of publishers to include audience and data lines. Some publishers are therefore losing out to these requirements. In the open market, spend goes into the ether – publishers can't control the algorithm on the supply side. Private marketplaces (PMPs) are a way to counteract this if you follow some simple rules:
• Keep it simple. If things are operationally difficult, it won't happen. PMPs may be great for publishers, but are not always so good for brands. If they don't work, brands go back to the open market.
• Be aware of where people are in the tech cycle – don't outpace the innovation level of your clients. For example, a lot of brands do not support HTML5. If customers cannot buy from you, then it's a problem.
• Become a buyer yourself – it teaches you to sell.
Mike Green
VP, marketing and business development, media, Brightcove
"Consumers are countering abusive ad practices by adopting ad-blockers. Valu-able video is caught in the crosshairs as ad-blockers are a blunt, all-or-nothing tool. Video publishers want consumers to recog-nise the value exchange TV has offered."
According to the IAB, 22% of the UK online audience is using ad-blockers; in France, it is 25% (eMarketer). When it comes to millennials, it's up to two out of three on some sites. However, publishers are trying a number of strategies:
• When Forbes offered an ad-light experience including no autoplay of video, 35% of people turned off their ad-blockers.
• Ars Technicha asked readers to subscribe to an ad-free version. It's also cut out intrusive ads and cut page-load time.
• Epicurious conducted a six-week test to get people to disable their blockers or register with the site, so they could get more valuable data. It explained its business model and the value exchange to visitors.
• In France, L'Équipe and other publishers have blocked content outright – 40% of people then turn their blockers off.
• Server-side ad insertion (SSAI) stitches ad content into content on the server side, meaning viewers can't block it.
• Syndication of content is a revenue opportunity that more publishers could look at. Brightcove's Content Marketplace, powered by Vemba, lets publishers set their own rules for selling.
Mimi Turner
Marketing director, TheLADbible Group
"If a person can tell a story in six seconds, then so can a brand."
The four-year-old LADbible Group has eight brands across its platform, reached 409 million users last month on Facebook and generated 1.1 billion video views in 28 days.
The rules of conversation and content have changed:
• People don't want to be talked at while they just listen. The business is based on what others want to share, so it needs to understand the youth audience and give it a voice.
• Does your audience want to tell others about your content? Never assume that you know what people are interested in. LADbible's most-shared story last year was the launch of Ben & Jerry's vegan ice cream (237,000 shares). The next was about Adel Termos, a Beirut man who tackled a suicide bomber.
• New conversational formats are transforming storytelling and freeing it from TV – virals, Snapchat, Instagram video, Periscope, and Facebook Live are providing new ways of engaging with audiences. LADbible streamed the Tyson Fury-Wladimir Klitschko press conference and got 37,000 viewers – with no promotion.
• People want to be part of the conversation. Follow the audience rather than lead it. Listen rather than tell.
Theo Luke
Head of Twitter Amplify, EMEA, Twitter
"The original 'What colour is this dress?' Instagram account had 27 followers. A tweet drove one million views of the Buzzfeed article about it."
Six years ago there were no pictures or video on Twitter. It is now a much more visual environment that presents a richer feed, with more videos, Vines and Periscopes. Twitter has invested in a raft of businesses in this field, such as Vine, Amplify, Periscope, GoPro and Snappy TV, which lets brands create frame clips of content. Moto GP used it with Bridgestone, and Heineken delivered the match point from US Open matches to a Twitter audience.
Why? Because of the explosive growth of video – it has grown 220 times [in terms of views] as consumers demand video everywhere. Most millennials are not watching live TV and brands are noticing – Interpublic invested $250m in the YouTube Preferred programme. Facebook will have to start to "play nice" with content, because it needs to attract TV revenue if it is to fulfil its growth targets.
But it's not scary. Content creation has never been cheaper. Analytics and targeting are getting better. AV budgets are getting bigger. The challenge for brands is that they're up against the likes of YouTuber Caspar Lee, who has virtually no costs but more than three million followers.
---
Margaret Davies Vice-president of global account management for EMEA media at Brightcove, commented:
"Over the last year in particular, we've experienced how our publishing clients face increasing pressures brought about by ongoing changes within the industry: the impact of ad-blockers, the struggle to monetise video, the influence of social media, etc.
"In hosting the Publishers' Forum, we sought to facilitate a conversation between our publishing clients and industry leaders so they could talk to, hear and learn from each other about how to address these hurdles. The goal: to make the most of the opportunities presented to publishers in today's digital world."