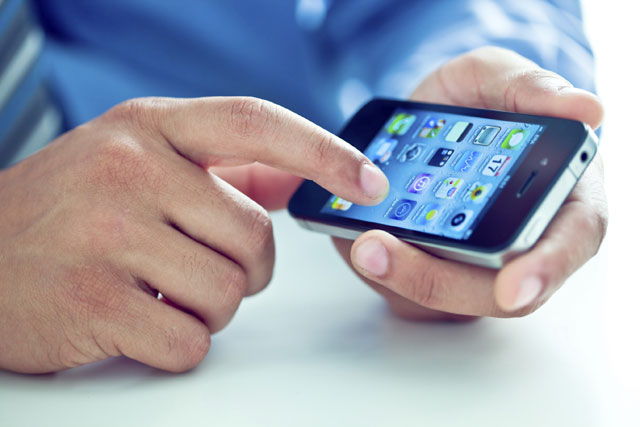 The study, commissioned by the Internet Advertising Bureau, aimed to examine the level of understanding about the data collected on mobiles, as well as people's attitudes towards mobile advertising.
Nearly half (46 per cent) of smartphone owners said they feel concerned about their privacy when using the internet on their mobile phone.
The study found that phone users are most concerned about companies accessing personal text messages and financial information, but less worried about data privacy for advertising purposes.
When participants were asked to rank how concerned they were about companies having access to different kinds of data, the top options cited were "mobile banking", "text messages" and "emails", while "anonymised info about internet usage", which is used for advertising, came in ninth place out of ten options.
Other areas of concern expressed in the survey, which was supported by the mobile advertising joint venture Weve, were photos and voicemail messages.
Awareness about data use was fairly low, according to the survey. Under half (44 per cent) of smartphone owners were aware that companies use data to serve content to them, and only 40 per cent were aware that many mobile services (such as websites, search engines and apps) would disappear without advertising.
When asked in what circumstances they would feel comfortable receiving advertising by text, 73 per cent said that unsolicited advertising text messages were "completely unacceptable", whereas only eight per cent thought texts from a trusted source or their network provider would be unacceptable.
More than half (54 per cent) of respondents claimed to have taken steps to protect their personal data on their mobile phone.
The most popular methods were connected with personal communication, such as deleting text messages (used by 50 per cent of people surveyed) and deleting browser history (45 per cent).
Comparatively, actions to control data used for advertising were less common, such as opting out of sharing data with third-party companies, which 23 per cent of respondents had done, or opting out of tailored marketing messages, which had been employed by 29 per cent of people.
Of those surveyed, 38 per cent had deleted cookies in an attempt to protect their data.
The study suggested a need for more information of how to protect personal data, as 51 per cent of people said they were unsure of how to control data on their smartphone.
Alex Scott, the public policy manager of the IAB, said: "When it comes to mobile devices, privacy means a lot of different things in different contexts to people. From this research we also know that consumers are taking measures to address these specific privacy concerns themselves.
"However, the study also shows consumers crave clarity on data collection and what it's used for. We have a collective responsibility to give consumers more control; as such we're working to address transparency and control for mobile advertising privacy, to give consumers a consistent experience across devices."
The Kantar Media-managed online survey questioned 2,000 UK smartphone owners aged over 16.