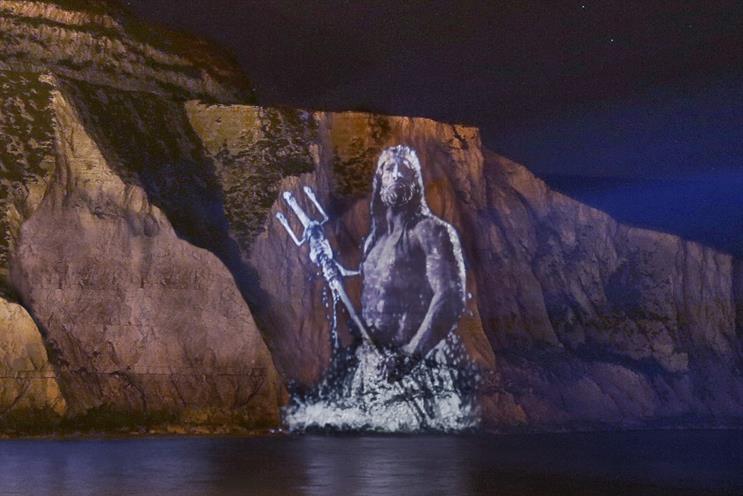 At least he appeared to, in an impressive stop-motion projection stunt last week for the National Trust, that was devised to captured the drama of the UK's coastline.
The stunt celebrates the 50 years since the National Trust launched its Neptune campaign, which kicked off in 1965 and has resulted in the charity managing 775 miles of coast in England, Wales and Northern Ireland.
Here is a YouTube video depicting the 50th anniversary event:
Neptune was projected onto the White Cliffs of Dover both as a variety of still images, and as the stop-motion sequence that animates his ascent from the waves.
The towering projections were achieved using an array of kit, including multiple cameras on a trigger system. It took seven technicians two nights to film from the Port of Dover, with the animation comprising 225 stills, each of which was taken with a long exposure of up to five seconds and shot in 4x HD.
A YouTube video takes viewers behind the scenes of the shoot:
The White Cliffs projection is the first element in a six-month 'Summer of Coast' campaign by the conservation charity to promote the power and majesty of the UK coastline.
Client: Helen Ghosh, director general, National Trust
Brand: Neptune
Agency: Mischief PR, Projection Artworks, Whitecoat