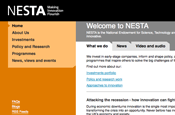 In a report published today, the organisation has recommended a 'national economic strategy', which would have innovation at its heart, and would help the UK to fight the recession and emerge stronger from it.

The report focuses on sectors such as green technologies, creative industries and healthcare, which it says comes with a high rate of future demand as well as significant existing strengths that are already stimulating new technological responses.

By 2013, the report states that the green economy and healthcare sectors could have a combined market size of £93 billion with the creative industries alone contributing £85 billion to GDP.

Jonathan Kestenbaum, the chief executive of NESTA, said: "This is not a case of spending new money, but of ensuring that existing money is spent consistently with a focused industrial strategy.

"The Government has to make the switch from bailing-out industries, to investing in growth sectors where future market demand is strong. If we fail to do so, we will be paying the price for many more years to come."