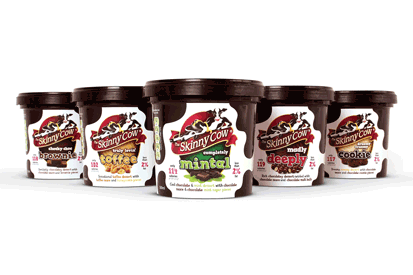 The Nestle brand, which is primarily targeted at women, has launched a £2.5 million campaign encouraging women to give in to indulgences.
Consumers are encouraged to visit the Skinny Cow Facebook page, where they can become a fan and share their cheekiest and sneakiest ways to say 'Oh yes I can' to life's little indulgences.
Other content created by Skive includes the Cowculator app, where users can justify their latest fashion purpose and the Collectable Cow - a 24 hour live stream of news and offers for fashion, holidays and beauty.
The integrated campaign is also running in women's magazines, shopping malls and on the London underground.
Pip Sutherland, Skinny Cow brand manager said the campaign centres on helping women feel confident indulging in treats which are traditionally seen as diet busters.
"Nestlé is now placing heavyweight investment behind the brand with our new campaign which will drive awareness of The Skinny Cow Hot Chocolate and emotionally engage consumers with the brand," she said. "The campaign idea centres around 'Oh Yes You Can', a positive message reinforcing that women can feel good about indulging every now and again."