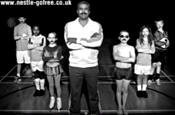 The ads, for a Smarties, Milky Bar and Fruit Pastilles promotion for free sporting activities, came under fire from Sustain for irresponsible product placement.
The ads featured 80's sporting hero, Daley Thompson together with an adult and child duo wearing false moustaches. Large text stated: Bring out the natural athlete in them.
Sustain argued that the products featured were all high in sugar and fat, and the message of the ads associated them with sport, athletes and fitness. Moreover, it claimed the use of false moustaches and the fact that the children in the ads appeared to be of primary-school age meant they had been targeted at children rather than parents.
Nestle argued that the use of black and white rather than bright colours, as well as the choice of music, would not appeal to children.
The company further went on to claim that as Daley Thompson was a more recognisable celebrity for adults, it was clear that the ad was directed at the parents as opposed to the children.
Nestle said the ad made no nutritional claims and as the promotion was to run throughout the year it did not encourage bulk-buying of the products featured.
The ASA acknowledged arguments from both parties but ruled that the ads were not in breach of the CAP code. It concluded that no further action needed to be taken and the ads could continue to run in their current forms.