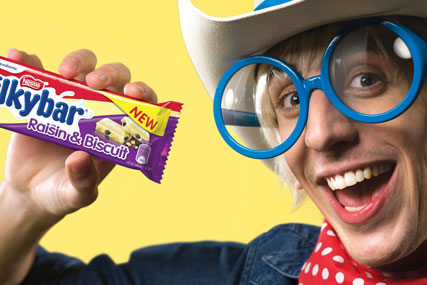 The "Ungrow up" campaign, created by WPP-owned Santo, launches today (2 August) with a range of television spots, outdoor advertising and a major digital campaign.
Nestlé claims that it will be its biggest spend on a Milkybar campaign to date.
Initial activity centres on encouraging members of the public to compete for the chance to feature in the next "Ungrow up" ad by uploading their impersonation of the Milkybar kid to the website, milkybar.co.uk.
To help their impersonation the Milkybar kid's famous glasses and hat will be superimposed on their face via an online audition process. As part of the campaign, Nestlé has created a downloadable "make me famous" social media guide for entrants to promote their audition tapes.
A spokesman for Nestlé said: "There is a MilkyBar kid in all of us and we hope that Milkybar raisin and biscuit will encourage all adults to join the 'Ungrow up' campaign."
The previous incumbent on the Milkybar account was JWT.