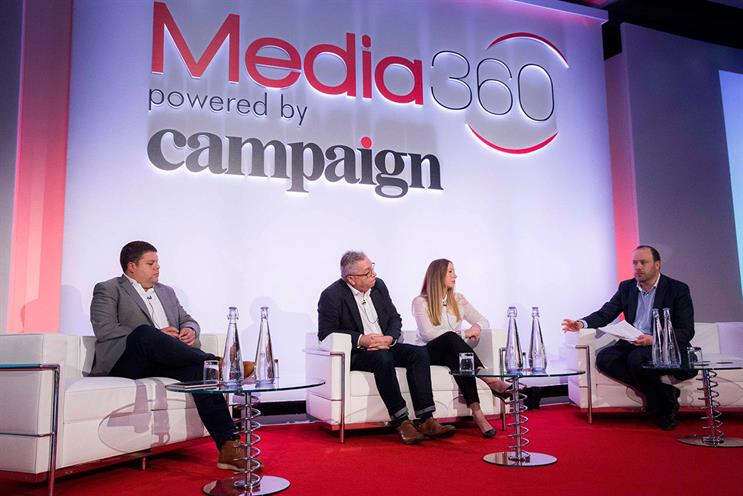 "Buying a 3am spot on TV may be cheaper, but what audience would you be reaching? Digital should have the same realisations. There's a good reason you're paying for quality to reach the right eyeballs," he added.
Pollack was speaking in a panel at Media360 on transparency, viewability and accountability in the changing media landscape. The panel was moderated by Campaign's head of media, Gideon Spanier, and Pollack was joined by Suzy Ryder, managing partner – digital & technology, OMD UK; and Paul Nasse, UK commercial director, Integral Ad Science.
Brands need to separate paying for quality and paying for transparency and safety – they two very different things, agreed Nasse. "I wouldn't expect to be paying for brand safety, but we need to get to a point where the industry breaks out the differences of cost and what exactly you're paying for.
The big worry for brands and publishers is the money that goes missing between what the brand pays and the media owner gets - a continual theme throughout the conference
"I worry about this a lot," Pollack says. "Every pound we spend has to have a purpose and the purpose is to build our brands. We've all seen the stats and I saw a chart in a breakout room by Iotec that charted the known tech fees…and the unknown bit in the middle. The challenge is that unknown bit."
While there are things a brand can do to address the mysterious tech tax, he continued, there is a chance that no brand can single-handedly eliminate this fee.
"Talking directly to publishers helps. This is something we've always done since I joined Nestlé. Not to speak against agencies but, as a client, if you just rely on your agencies, you're doing yourself a disservice," concluded Pollack who later added that Nestlé worked with "a few – less than 20" publishers.
It's a challenge for agencies to protect their clients in this fragmented digital landscape, Ryder said speaking of brand safety and viewability. "There are inconsistencies and different levels of thoroughness across media owners."
What matters, she continued, is not to press a button and just walk away. "Anyone can implement technology – effectiveness doesn't depend on just using the tech, it's about the data. If you're not studying it and using it to better what you're doing to minimise risk, the whole process is pointless."