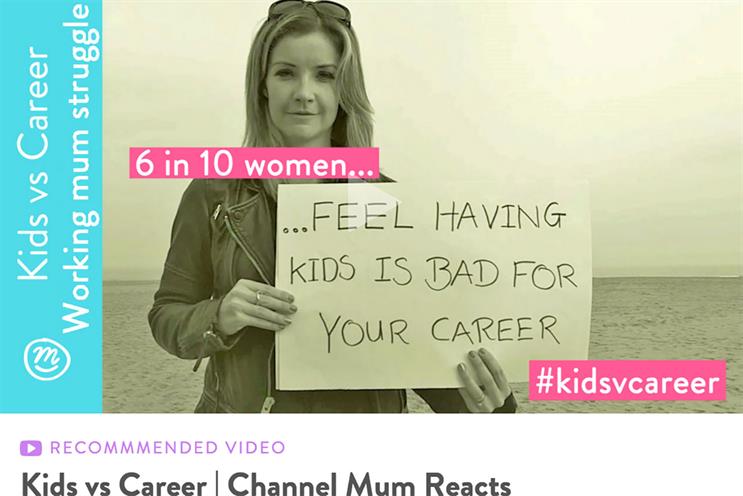 The ChannelMum.com website launches today and is designed to harness the explosion of vlogging to create a platform for millennial mums.
Freegard, who sold Netmums over three years ago, has set up ChannelMum.com after realizing the "first YouTube generation to grow up are now in their mid 20s and early 30s" and are giving birth to the majority of babies in the UK.
ChannelMum has existed for a year as a YouTube channel, but has now been set up as a standalone website after receiving the backing of ITV, which has an undisclosed minority stake in the company.
Freegard said she could have launched it with venture capital funding, but decided to choose ITV instead to make the most of its broadcasting expertise.
The website has already signed up 100 vloggers and launch advertisers include Ikea, Argos, Mattel and Pampers.
The advertisers will run branded content on the platform in association with the vloggers, who have signed up following an invite-only process.
One such vlogger is Dolly Bow Bow, whose real name is Kate Murnane, and is one of the UK's most commercially successful vloggers after signing up over 265,000 YouTube subscribers and launching her own jewellery line.
Freegard advised brands looking to advertise on the platform to be "prepared to relinquish control because you can't give mum vloggers a script but when you get it right it gives you really powerful advocacy".
ChannelMum is also working with the NHS on its Sugar Smart campaign and Freegard believes the message is more effective when coming from fellow mums rather than being a lecture from Government.
Freegard says the next steps will involve signing up significantly more vloggers and improving the site's search functionality to make it easier to discover relevant content following the influx of vloggers.
She argues vloggers benefit from signing up to the platform because it will bring them all together and provide them with a much bigger audience and allow them to tell bigger stories.
Freegard also believes it will benefit brands because ChannelMum can line up the vloggers for their campaigns, rather than brands having to approach each vlogger independently.
She believes the ChannelMum business model will prevent vlogging going the same way as the blogging industry.
Freegard said: "Bloggers were a growing industry ten years ago but there was no one place to find bloggers so the audience diffused and it created an inward-facing circle where content would only be read by other bloggers."
ChannelMum has seven full-time staff and works with the founders of Spirit Digital Media, the production team behind Jamie Oliver's FoodTube channel.