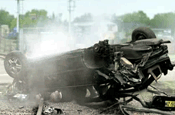 Mark Shaoul, the head of marketing services at Network Rail, is leading the review and has approached a number of branding and advertising agencies with the brief.

He is currently holding initial discussions with agencies and plans to finalise a shortlist of three in the next couple of weeks to pitch before Christmas or in early January.

Shaoul would not confirm the agencies, but it is thought that they include Strategic Fusion, Loewy, Communique 360, The Brand Union and The Partners in partnership with JWT London.

The branding project will not change Network Rail's name or logo, but it will involve positioning, values, guidelines and communications platforms.

In the past, Network Rail has focused on public safety awareness campaigns on level crossings. Its latest "don't run the risk" TV and radio campaign launched in November.

The decision to rebrand has been led by changes to the business over recent years, which have seen the company begin to communicate more directly with passengers.

Shaoul said: "We sat down and said it was probably time we reassessed our tone of voice and style of communication, in light of the fact that we will be doing more passenger communication in future."