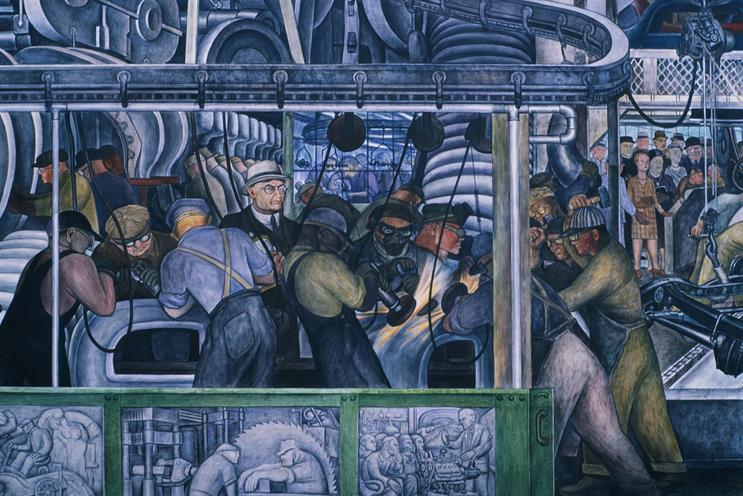 The 20th century was the golden age of supply-side optimization. Less people, less plant, less energy, less everything. Less, manifestly, was more. From global brands to multi-model vehicle platforms and ... television spots (even those that were not especially good, that worked by combining 10% inspiration and 90% repetition).
Frederick Taylor wrote The Principles of Scientific Management in 1911. It spawned the assembly line — any color you like as long as it's black —and ultimately mass marketing, which washed whiter and brushed brighter. Heaven knows Taylor would have loved broadcast media. What could be better? Even if the message was irrelevant to 75% of the audience, it was still the most efficient and effective way of reaching the 25%. As Taylor did not say, what's not to like?
The requirements for success were simple: a big stick and constrained choice.
Choice, of course was where it all went wrong. First, there was the consumer's choice of goods and services available. Corporations took the mandolin to absolutely everything. From soda (diet, caffeine rich, caffeine free, original, diet, zero ...); to single platform, multi-marque vehicles; to detergent and toothpaste; one size no longer had to fit all. Functional differentiation took a back seat to emotional resonance, the creation of wants and the power of the brand.
As corporations grew, so did the companies that sold the brands they made and at the zenith of the broadcast age – 1990? – the transfer of power accelerated. Walmart, Tesco and Carrefour grew mighty and leveraged their power to create a new and far less attractive environment for brand owners. Retail became pay to play; in exchange for shelf space, massive amounts of money shifted from direct to consumer brand marketing, to retailer mediated trade display and advertising. The term "brand value" became disaggregated. The message from the retailer was simple: "If you want your brand on the shelf, show us consumer value that's unique to us." Despite the travails of Tesco and others, the practice continues unabated. You don't make Amazon's Subscribe & Save list at manufacturer's recommended selling price.
As retailers took control, the value of broadcast media grew. The source of attentive audiences at scale was the demand hedge. If a brand were famous enough, trusted enough and demanded enough, then it would be listed.
What now? Broadcast audiences are in decline, ad avoidance and ad-free, over-the-top media take an increasing share of all viewing. The juggernauts (and genius) of Facebook and Google bear down, aided and abetted by abundant bandwidth and the device and app ecosystems. Facebook, Google, Apple, Twitter, Pinterest and Snapchat; giants or unicorns all, the Dyson cyclone of media dollars united by three things:
1. They have conquered mobile
2. They have more first-party data than anyone
3. They spend no money at all on the creation of content
To state the obvious, there's margin in that.
For the advertiser it is a case of giants to the left of me, giants to the right — and they are stuck in the middle with us, the agencies.
We may look like an ashtray on a motorcycle, but that would be to underestimate our talent, Darwinian adaptability and the simple notion that we are now in the era of demand side optimization.
From budget allocation to optimization, from data driven insight to creative development, choices and sources are abundant. There is no single source anything but instead a screaming demand for channel (and vendor) specific creative assets for delivery and discovery together with intra and inter channel allocation, optimization and attribution.
The truth is that creative assets made for TV don't work as well on Hulu, worse on YouTube and sometimes not at all on Facebook. Assets created for Facebook don't necessarily deliver on Instagram or Pinterest, and Vine is from Mars and SnapChat, from Venus.
As for media, every platform will claim ROI that is sometimes hard to fathom. 3X from you ... and you ... and you, too? It may be true that the auction levels the negotiation playing field but allocation among channels and attribution across them never goes away.
It's far from clear that Red Riding Hood is going to get impartial advice from the wolf. From the folks that gave you natural search, virality and organic reach ...
While trust between agencies and clients may not be at an all-time high let's not abandon a century of detente just when we need each other most.
There were two notable events in 1776. Adam Smith published "An Inquiry into the nature and causes of the wealth of nations" (and Britain became independent of its American colony). Smith promoted the idea that specialization was central to economic success. Brand owners are good at making stuff and encouraging new streams of demand; agencies are good at finding brand stories and fertile audiences to capture that demand. The "old media" create stories that educate and entertain and provide a carriage vehicle for those stories, and the new media are perfecting new forms of distribution and discovery.
Today, like it or not, more is more. We are in the era of demand-side optimization. Granularity demands more complex strategies from the science of the manufacture and distribution of brand-owned creative content. It's the golden age. Celebrate it.
Rob Norman is chief digital officer of GroupM Worldwide.