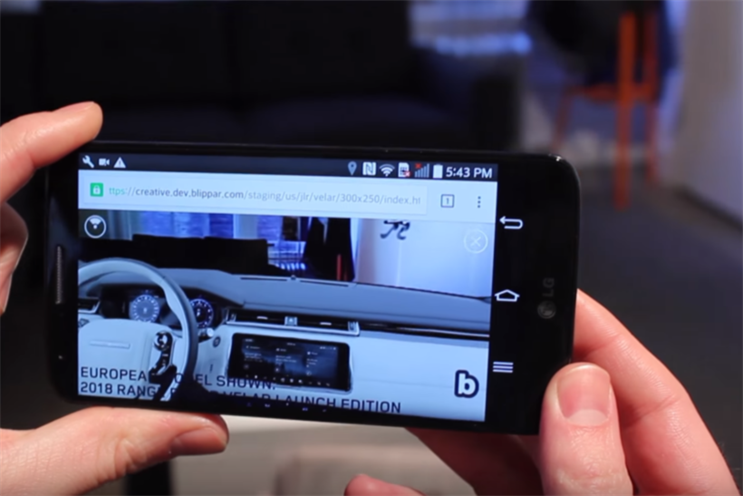 For years, Jaguar Land Rover has experimented with immersive digital experiences. It's used its app to model vehicles in 3D, mocked up a concept for a car with a heads-up display and taken customers on virtual reality tours at car shows.
But now the automotive company is bringing augmented reality to the lowly banner ad. New rich media banner ads for the Range Rover Velar SUV allow users to see the world around them from the inside of the car using nothing but their smartphone camera, rather than goggles or a proprietary app. Jaguar Land Rover is the first brand to take advantage of the technology, which was created by London-based AR startup Blippar and Mindshare North America.
"In the past you would have to download a specific app, which is obviously a clunkier process and a hurdle for engagement," said Taylor Hoel, media specialist at Jaguar Land Rover North America. "The fact that all a customer has to do is enable a camera to engage with this is really great for us, and we were thrilled to jump in and test this."
The Velar debuts in August, but customers can begin examining and interacting with the vehicle now. "One of our campaign KPIs is to drive pre-orders, but that's difficult to achieve without actually test-driving the vehicle," said Dan Eckrote, director, planning at Mindshare North America, Jaguar Land Rover's media agency. "The AR experience solves for that by allowing consumers to 'sit in the driver's seat' no matter where they are."
JLR's research has shown that the brand's customers like cutting-edge technology. Customers in the U.S. are used to pre-ordering a vehicle from the British-based company that they can't take home that day, so they also like receiving as much information about a car they're thinking about buying as they can get. "With these very discerning customers, they really do want to get a sense of detail in terms of what the vehicle offers," said Joe Torpey, communications manager at Jaguar Land Rover North America. "It's not just a static photo that's going to entice them. It's the romance of enveloping themselves in that kind of experience and getting a sense as to what its potential is."
The new banner ad begins running nationwide early next week, targeting an in-market audience that may be several months out from purchasing a vehicle. It will appear on Chrome and Firefox desktop browsers and Android mobile phones. For now, the ads aren't compatible with iPhones, but Blippar expects that will be resolved in the next six months, once Apple opens its camera software to developers. Once the Velar goes on sale, the banner ad will "pivot from a 'pre-order' tool to a 'buy now' tool," Eckrote said.
Clickthrough rates for banner ads are notoriously low, just 0.05 percent according to Google, but the new ads enable marketers to present content viewers can't easily get elsewhere. "The banner ad industry is huge in terms of numbers, but everybody wants more from it," said Blippar COO Danny Lopez. "We know that by providing the experience, the clickthrough rate is going to increase."
It also allows marketers who haven't invested in augmented reality before to try it out. "It takes some of the heavy lifting from them," said Ariff Quli, chief commercial officer, Americas at Blippar. "When brands and agencies talk about jumping into AR, there are challenges with scale, there are challenges across the board with relevancy. This enables brands to dip their toe into AR in their current infrastructure, in their current format."
While Jaguar Land Rover is the first brand to use the new banner, others are following quickly, said Blippar, including a "major" CPG client in mid-June, as well as retail and entertainment brands over the next three or four months.
Blippar says the company is currently building out a library of 3D objects that creative agencies will be able to use to create their own AR banner ads. "Our vision is to give access to creatives in the long term," Quli said. Right now, it takes two to four weeks to create one, but as computing power increases, that's sure to drop, along with the number of people required.
Opening the process to other players hastens the development of an augmented reality ecosystem everyone benefits from, said Lopez. "We talk about democratizing AR. The more others take the responsibility for creating AR content, the more mainstream this will become."