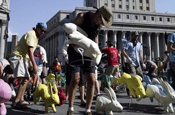 The spot is billed as the most ambitious piece of stop-motion animation ever undertaken. Shot over three weeks in New York, the commercial employed 40 animators and used 2.5 tonnes of modelling clay to create the effect of rabbits of varying sizes hopping through the city. Some are as large as 30 feet tall.
The Gorgeous director Frank Budgen shot the ad, which was written and art directed by the Fallon creative director Juan Cabral.
The commercial is the last to have been signed off by the outgoing Sony marketing director, David Patton, who joins Grey London as chief executive next month.