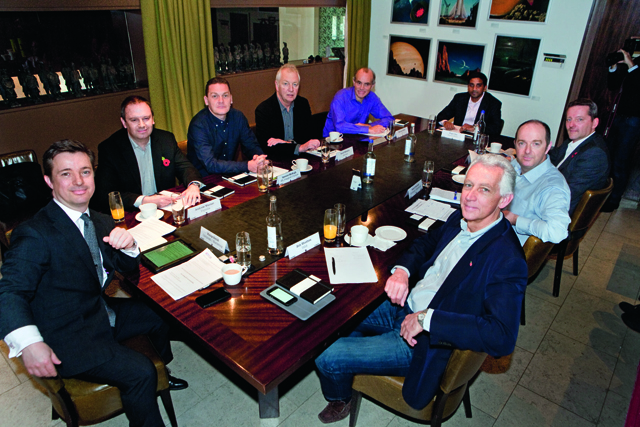 The past few years have been uniquely challenging for marketers. As well as facing disruptive transformation in many markets, the role of the marketer is under scrutiny as never before. Technology is at the heart of this change, empowering consumers to connect with brands in a way that can be both frightening and intoxicating for businesses. As they look to rise to this challenge, marketers are often charged with mapping out the new reality, and finding out how brands can communicate most effectively within it.
Spencer McHugh of EE says technology continues to challenge marketers. "There is a massive adoption of data with the roll-out of 4G, and smartphone use doubled again last year. Video content on the move is going to be a huge thing."
But, after predicting the importance of mobile and tablets for so long, marketers have been slightly caught out now the technology tipping point has been reached, says Andrew Warner of Expedia. "Consumers now expect a seamless experience on all devices and are horrified when the app doesn't have the same data as the desktop version. One service that delivers it all sounds straightforward, but it is massively complicated."
Rapid technological progress is also shaping attitudes toward personal data - what's private and what's shared. Where brands can demonstrate a value exchange - that they are using data to provide better service - privacy is less of a concern. What is important to consumers, according to Michael Cutbill of the AA, is that companies show greater transparency. "Consumers want to know what you are doing and why, and they will find you out. The idea that the company knows best is on the retreat. Social media has accelerated that."
In its global study The Evolved CMO, Heidrick & Struggles and Forrester Research identified two key aspirations among chief marketing officers: to have more involvement in business strategy and better understand the impact technology is having on their businesses. According to Ian Priest of the IPA, marketing and technology will increasingly be bedfellows, with the CMO acting as a sense-checker. "Technology can do a lot, but we need to ensure it isn't the tail wagging the dog. You need to know what the customer benefit will be."
Nigel Vaz of SapientNitro says that consumers will use tools such as artificial intelligence and virtual "me's" to handle mundane interactions with brands. However, this leaves broader emotional needs that go beyond the capacity of 30-second ads. Brands will have to present a more seamless story that encompasses the entire gamut of a consumer's brand experience. "Brands need a more honest approach where they be, do and say in a way that's in sync. It used to be the brand telling the story and somebody else doing, but that doesn't work now."
The effect these changes are having on the marketer's role is profound, says David Wheldon of Barclays. The CMO needs to come out of the marketing silo to be able to influence and collaborate with internal stakeholders. "The marketer needs to ensure that the customer is in the room - it doesn't really matter whether the marketing director is on the board. The role is very different these days and focuses on influencing, building communities internally and evangelising as well as doing."
Bob Wootton of ISBA agrees that marketers need to have a more collaborative approach these days
and worry less about ownership of the marketing function.
"Marketers shouldn't be talking about media channels but how they can project brand influence."
However, not all organisations understand the new paradigm and a two-speed marketing world is developing. In traditional businesses, a formulaic approach remains inculcated in the marketing department, whereas progressive organisations spread the culture of marketing more widely.
Warner observes that tech companies are often at the vanguard. "Companies such as Google and Microsoft don't have armies of marketers with big offices and flashy job titles, but the influence of good marketing is greater in those companies. As Professor Hugh Davidson said, 'marketing is too important to be left to the marketing department'."
However, Cutbill contends that many organisations still look to the CMO for help as they grapple with the changing nature of consumers and competitive markets. "Marketers can be the most important part of the organisation, or in charge of a dwindling budget with decisions taken elsewhere."
The dizzying pace of change makes nonsense of the term "marketing controller", says Priest. "Control is the last thing marketers have. We are learning as we go along and you have to expect constant change. You are an influencer, a starter of conversations and a teller of stories, not a controller."
SapientNitro takes its clients through an exercise that looks at what the next 36 months hold in store for their business and industry sector. Typically, it finds the role of classical marketing is getting smaller as companies realise the importance of brand experience. "Some traditional marketers are trying to hold on to what they've got, but where they embrace the consumer, technology and innovation, the role is getting bigger," explains Vaz.
Organisations now have to demonstrate a more holistic approach, says Wheldon. "At Barclays, we are building the brand inside out so that everybody has a clear understanding of the change the company is going through and the values that they have to live up to. It's not just about marketing, and wouldn't work without the closeness with HR."
EE is another brand that has experienced organisational change in bringing Orange and T-Mobile together. "We spent a lot of time internally taking people on that journey" says McHugh. "It was important that the service design for the consumer was right, rather than the logo. Marketing had to be a catalyst of change across the organisation."
If clients are faced with change, then agencies, too, have to adapt to better understand the business and commercial drivers, and the role of technology as a creative tool.
Priest sums this up as "commercial creativity". "Technology changes but humans do not. We come in where technology makes the experience better. We need to be more agile as partners. The creative world can be relatively conservative," he argues.
Collaboration with procurement is also important, points out Wheldon. "To the procurement department, advertising agencies are an expense, some of which can be got rid of. The marketer's job is to ensure that they understand why we need agencies to do what we need to do - and agencies need to understand the commercial pressures that their clients face these days. We need greater collaboration."
Wootton says that many people do not have the gravitas or experience to do this. "Agencies find themselves on the whip end of that. A 24-year-old marketer can't do what David Wheldon does."
Unless there is an orientation around partnership, clients will not get the best from agencies, says Vaz.
"If you treat an agency like a widget supplier that just creates a certain number of ads, you won't get transformational, on-budget ideas. You won't get something like Barclays' Pingit or Tourism Queensland's 'Best Job In The World'."
Wheldon concludes that marketers need to stop hand-wringing and fretting about how important they
are within the organisation. "If we get on with doing our jobs and provide marketing that is impactful, then we will be respected. I think too many people obsess about reporting lines and structure; it's best to check the ego at the door and get the job done."
Warner agrees. "Act with humility and accept that marketing doesn't always have the right answers. And learn from others."