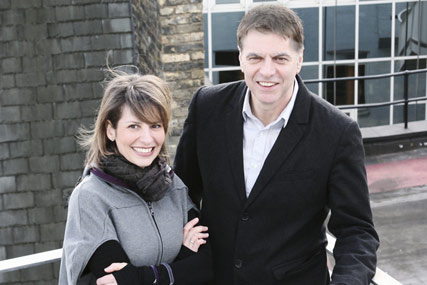 The thing is that we seem to be a dying breed and there are very few of us out there that want to make a career out of it.
It's amazing that the role is still shrouded in mystery and can be treated like a dark art and is sadly perceived by some as the grubbier end of the business and a sales role rather than a marketing one.At the end of the day our job is to market our brand, the agency, adopting clever strategies to get ourselves on clients' radars.
As things have toughened, it means agencies have to be cleverer and even more creative with their approach. But as we see it, whatever the economy, there are two options. Retrench, or step forward into the bullets.
New business has always had these characteristics. You have to inspire those within and always keeping an eye on those outside.
But as clients have battened down the hatches and there's less to share around, the last 18 months or so has meant agencies have had to be even more dogged.
Perversely, any new business person should thrive on these tough times - its diversity, its pressure, its exposure and above all its rate of change.
Gone are the days of lunches at The Ivy - although who you know definitely goes a long way - its now more competitive, more legislated and there's even a new language to contend with. Pitches rarely move these days unless you've filled in an RFI, an RFP, a PPQ or appeared on an LLQ.
New Business used to be about being out and about, but now it's as much about proposals and submissions that have to be turned around in days.
New Business people need to be able to combine the skills of being gregarious, sociable types who can get people motivated internally, build relationships externally (with consultants, journalists, prospects, influencers, etc) and network with people they've never even met, as well as skills more akin to planning - such as forming strategic responses in short timeframes to the demands of new business prospects.
Then there are the pitches themselves, where clients are asking more and more of agencies. The hoop jumping process is escalating, as indeed are the pitch costs and time.
It is rare that anyone makes the top of agencies without having earned their stripes in new business in one form or another.
It's a path that must be taken if you want to reach the giddy heights of chief executive or managing director. That doesn't mean you have to have worked as a new business director but it does meant that you need to have built yourself a reputation and appetite for new business and what it entails.
The highs are brilliant because they are real highs - not just the winning but getting on a shortlist, being told you're on the pitch, having a brilliant tissue session with the client and best of all maybe seeing work that just knocks your socks off and you just know you should win the business.
But of course new business isn't just there for the good times. It's our job to create energy and excitement, having lost the third pitch in a row - it's about getting the agency back on its feet and off and running on the next.
In short though, it's about having something interesting and relevant to say and at the right time. That coupled with a bit of who you know is a winning formula.
The current modus operandi of a full-blown pitch is expensive, time consuming and frankly an unrealistic benchmark of what it's really like to work with an agency.
As an industry we should look to other ways of finding a new partner - for example the strategic workshop, the 48-hour pitch or the two-week pitch.