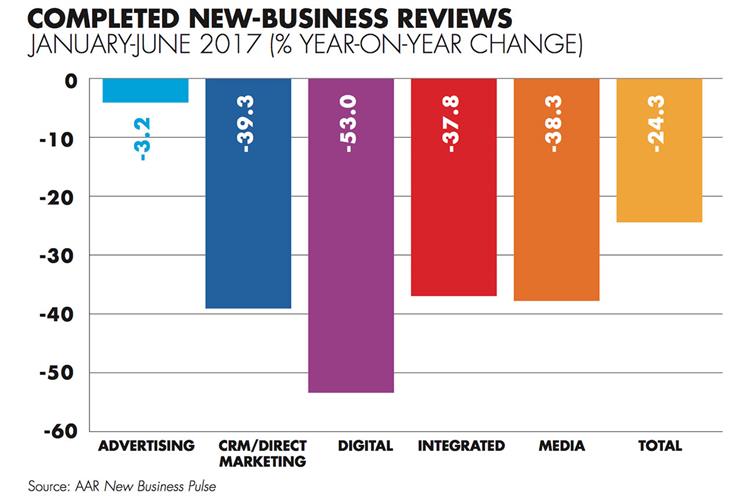 While advertising appointments were down only 3.2%, across all disciplines total completed reviews fell by almost a quarter. Digital saw the steepest decline, with the number of appointments less than half of that in the first half of 2016.
AAR chief executive Kerry Glazer said the figures reflect a fluctuating market, with a busy first quarter for advertising, during which appointments were up by 9.4%. This was followed by a second quarter that was disrupted by a late Easter and the run-up to the election, which reignited concerns about Brexit negotiations.
But Glazer said the moment had passed: "Things are back on track now, with the end of the second quarter seeing another upward swing in the number of new agency reviews being announced in some disciplines. We are predicting that the overall volume of new-business reviews will match 2016 by the end of the third quarter."
James Murphy, founder and group chief executive of Adam & Eve/DDB, said that while he had seen a drop in reviews, there has been opportunity for organic growth through new work from existing clients.
He said: "Clients are not just looking to create communications – they're looking for agency partners to create these connected consumer journeys. That brings in a broad range of skills."
Digital pitches are becoming a "rarity", according to Martin Jones, managing partner at AAR, because most processes now include this as a component. Meanwhile, specialist digital components – such as user experience, design and build, and digital strategy – were increasingly being handled in-house or being delivered by specialist consultancies as part of an overall remit and were therefore not going out to pitch, he said.
Bigger agencies are getting better at offering integrated services, according to Tom Knox, chairman at MullenLowe London, and the idea that they couldn't do digital properly was "becoming old-fashioned". But the uncertain political climate could be accelerating that trend, he added: "In times of uncertainty, if you've got a good relationship, the best way to grow your business is organic growth."