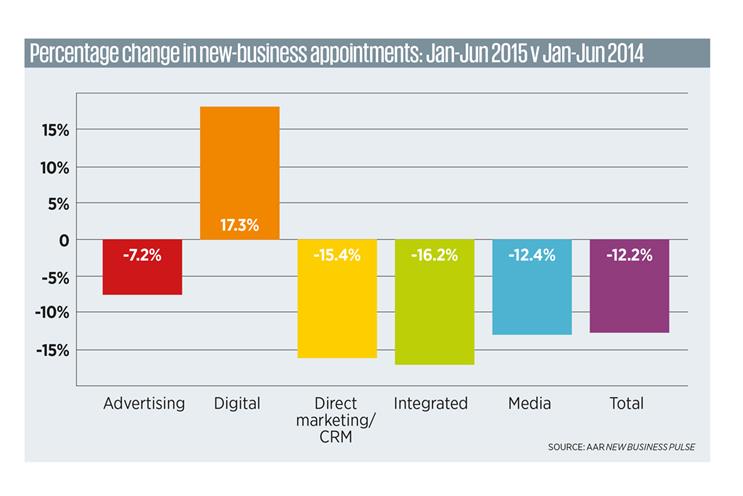 Drops occurred in almost every marketing discipline. The smallest decline was in advertising appointments (7.2 per cent) where, like last year, seven accounts worth at least £20 million changed hands (Harveys, Nationwide, Paddy Power, Tesco, Vodafone, Waitrose and Wickes).
More severe falls were seen in integrated (16.2 per cent), direct marketing/CRM (15.4 per cent) and media (12.4 per cent), the New Business Pulse survey revealed.
Only digital appointments bucked the trend, rising by 17.3 per cent. Wins in this category were split between specialist digital agencies and creative agencies acquiring additional work from clients. Accounts included British Airways, Samsung and Dyson.
The first three months of the year were buoyant, with many agencies restricting the number of pitches in which they participated. But there was a noticeable slowdown between April and June. Protracted reviews, particularly in the media sector, could be one reason for this – the survey only counted pitches that had been resolved in the first six months.
There was also a period of purdah preceding the general election during which no government activity took place.
The AAR chief executive, Kerry Glazer, said: "While it is difficult to make predictions with any degree of certainty in this changeable market, our belief is that, by year end, the total new-business market will show similar volumes to 2014, with perhaps a slight year-on-year rise."