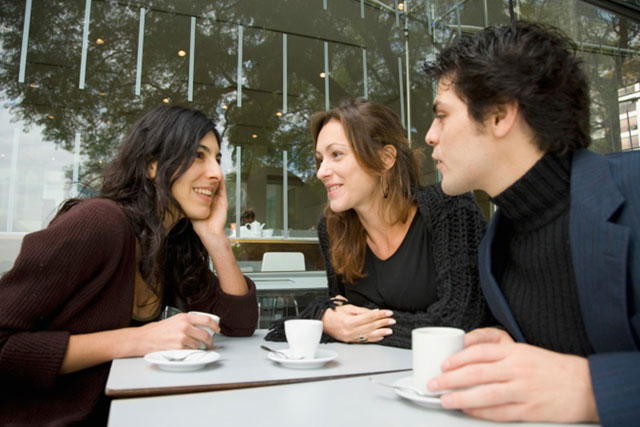 There is a brand that mobilised thousands of people to be fitter, healthier and more confident in their abilities.
It encouraged them to share their passion, to compete with and against their neighbours and in doing so fostered a sense of civic pride in where they live.
That brand is Nike, the initiative was Run London, and it was successful because of the way Nike grasped the opportunities presented by a new type of community that's emerged over the last decade.
Nike understood that communities cluster around passions, span different networks, and are defined by the bottom-up creation of value.
So what are new communities and why are they so important?

Firstly, new communities are no longer just defined by neighbourhoods, but around interests, life stage and lifestyle.
Nike's Run London was based superficially on geography but more fundamentally about a shared identity built on a shared passion and attitude.

Secondly, they are not dependent on reciprocity for them to operate. Things have moved on from the old community group ethos where everyone benefitted equally but expected an equal contribution from all members.
This presents both an opportunity and a challenge for brands. On the one hand, the expectation people have of something for nothing (or very little) from community groups means there's now a space for brands to step in and provide content and facilitate connections.
On the other, brands must deal with the loss of control that comes with community involvement.
Brands have had to realise that they are no longer the primary custodians of their communications.
The fact is that it's these new communities that now control the distribution and even content of brand messages.
The familiar causes - the rise of social media, the increasing powers of search, brands struggling to connect via traditional advertising - have occurred in parallel with the rise of a more participatory culture. And it's conversations that are igniting communities.

To help brands rise to the challenges of this new democratic, participatory era, SMG have developed Community Igniter, a new tool that enables brands to connect with the conversations that ignite personal communities.
It reveals who talks about what, to whom and what media spaces inform those conversations.

So if football is the conversation, we know whether different audiences are talking about the Champions League, about the club they support or even about their children's Sunday league team.
We know if these conversations are happening face-to-face, over online forums or on social networking sites.
If brands are to ignite or be invited to join conversations they need to know more about their context and content.
So now we know specifically that 43% of men have conversations about football in a bar or restaurant, but 55% do so at work and 72% home.
Percentage of men who discuss football regularly who do so at each location
Source: SMG Community Igniter
We know that an expert or professional view on TV (with 41% of men citing this as a reference) is still more important in informing those conversations than football websites (34%).
Percentage of men who discuss football regularly who look at or refer to each source
Source: SMG Community Igniter
And for those that talk about actually playing football, conversations are as much about sharing funny stories (36%) and social events around the sport (34%) as they are about getting fit to take part (38%).
It matters to people not just what they talk about but also who they talk about it to.
How many times do we hear "It's so great to get away from chatting about babies…" when talking to people we know through our offspring, or "It was good when we started talking about something else other than work…" when considering the conversations we have with colleagues.
The fact is that people seek a range of conversations across a range of networks - this is how people construct their personal communities.

And our research tells some interesting stories about the dynamic nature of personal communities.
It's not just networks but digital platforms that are changing the way that new communities connect.
We know from Community Igniter that the biggest conversation topics by the proportion happening on chat rooms and online forums are fishing (57%), martial arts (47%), beauty (46%), cars and motors (46%) and holistic and complementary health (43%).
Meanwhile the top conversations by the proportion happening on social media are about college societies and sports teams (70%) playing and performing music (58%), people who they attend school or college with (56%) and things they've seen online (55%).
It is now possible to calculate the value that different conversations create for different audiences, in other words a measure of their importance as social currency.
It's a formula which accounts for: the occurrence and frequency of conversations, the number of people they are held with, across the number of networks.

Knowing the value of community connections empowers brands to both identify the right community and to pinpoint its needs.
By doing this brands can successfully create the value exchange necessary to ignite communities.

Top tips to ignite communities:
Interrogate a brand audience's network profile - who they talk to and how they know them
Activate, cultivate or align with the particular conversations that generate the most energy - the most frequent, with the most people and across the most networks
Pinpoint the particular needs of a community network via a granular understanding of the specific conversations that create social currency
Understanding the context: where, when and with whom conversations take place
Own, earn or pay for content in the spaces that inform conversations - from online reviews to consumer reports … from TV adverts to social media
Track the energy for the conversation that ignites a brand's community over time
Paul Selby, product development director, Starcom MediaVest Group