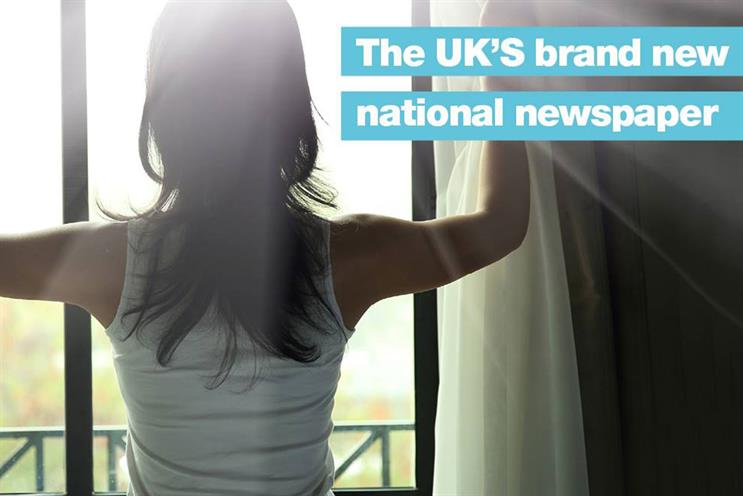 Emma Dibben, the head of display at MEC, and Daniel Booth, the head of print trading at the7stars, have both given their views to Campaign.
Emma Dibben, MEC:
"The first edition of New Day certainly delivers on its promise: it feels different, it looks appealing, it has a clear and warm tone of voice which in the first issue is delivered via the opening column on the false inside front cover.
"New Day does feel optimistic and uplifting. It will be interesting to see how the tone of voice will shine through with no leader column in future issues.
"Flagging an exclusive interview with the Prime Minister on the first front cover is not the obvious way to demonstrate political neutrality, however the feature did not show bias.
"The masthead is fresh and distinctive with a front page story which gives more than a nod to The Independent in its style: this is a magazine in the body of a newspaper. The paper quality is far superior to that of other newspapers.
"In terms of editorial content, New Day seems to add a level of clarity to a breadth of issues: Brexit, yes or no; online privacy issues; is Cheryl's new relationship doomed to fail? The title needs to be careful of being a bit too 'Janet and John' in its treatment of the heavier weight questions. I welcomed the clarity but felt a little bit patronised.
"It's not surprising for the first issue that the title still feels like a proto-type in terms of its ad content and layout. It seems inevitable that once commercial pressures have been brought to bear, the layout will look different within the next two to three months. The fact that there is no ugly no-man's land in the second half of the title is a blessing for all concerned.
"On this particular Monday morning, my main desire for lightweight content was to consume the overnight results / news / pics / fashion from the Oscars – no print product could deliver at this point in time. Unlike its competitors, New Day could not deliver this content digitally either, although it could have done it via social media.
"Although its ambitions on circulation are modest, if Trinity Mirror are to successfully engage women in the New Day brand, a digital strategy is needed swiftly before the momentum of the print launch is lost."
Daniel Booth, the7stars:
"This morning I opened a new paper for the first time since 2010 when the i launched. I broke with my morning routine and went out of my way to pick up a copy of New Day, a newspaper created for today's time-poor consumer.
"Launching a newspaper in the current media climate seems counterproductive, as audiences flock online and publishers follow. But with the right formula there is no reason why a print product can't be successful, as the launch of the i demonstrated.
"Following Trinity Mirror's Modal Britain research, the publisher feels it has spotted a gap in the market for a publication that offers something different to what's currently available.
"Trinity Mirror made a lot of promises for the launch and has stayed true to its aim of delivering a paper that looks, feels, and reads differently to most. The paper covers everything from extreme couponing to Brexit, with a neutral editorial stance, showing no apparent agenda, something rare in print it seems!
"The elephant in the room? Where are all the ads? Trinity Mirror has kept its word in ensuring New Day is very light on advertising: as a paper created for the consumer this makes perfect sense and is something that readers will no doubt appreciate.
"My question as a media expert is: with only eight fixed ad sites how long will it be before demand exceeds supply? We have seen long time established titles such as The Sun, the Daily Mail and The Guardian give way and open up previously sacred editorial sites to advertising.
"Given this paper's aim of reaching a unique reader, at what point will Trinity Mirror bow to market demand and introduce an Outside Back Cover, a page 2&3 Double Page Spread or even a wrap?
"Seeking to focus on fulfilling unsatisfied consumer needs in print, Trinity Mirror announced New Day wouldn't have an accompanying website, opting only for social media to complement the printed product. In the first analysis, this move seems ill-advised, however it is arguably a smart response to recent developments from major digital players seeking to keep users within their 'walled garden'.
"For example, Facebook has launched instant articles, while Google ARM, and Apple News have both been created to keep users within the app.
"Yes, Trinity Mirror is very brave to be launching a paper in this market, but it will have done the necessary due diligence and today's end product is true to all of their pre-launch claims. It's great to see a publisher that still has faith in traditional publishing, and is willing to shake up the market to prove its point."