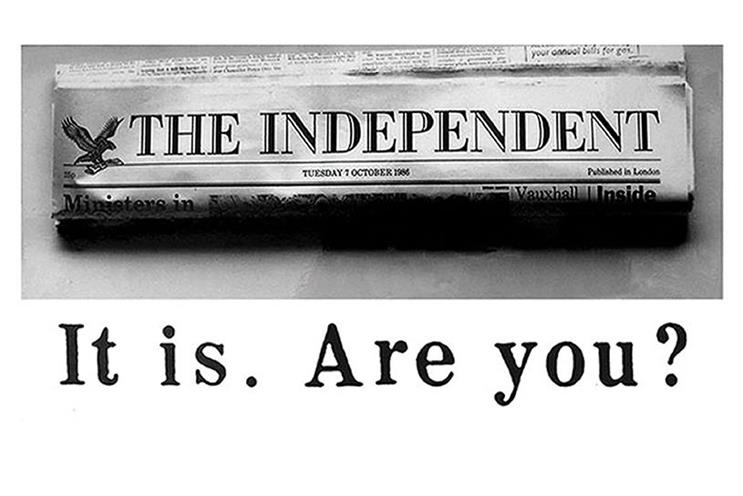 The saturation coverage of The Independent's decision earlier this month to become a digital-only brand was, to say the least, stimulating.
Newspapers are many things: businesses, advertising vehicles, opinion formers, influencers, lifestyle arbiters, seekers of truth. We are also reminded now and then that they are also, par excellence, national institutions. So almost everyone recognised The Independent's move as a significant event.
Unlike most other major media markets around the world, we have 10 daily newspapers, each with their own distinctive personality, set of readers and series of achievements.
Predictably, there were those who attempted to use the news from The Indy to pursue a binary sectarian agenda about what the future should look like. But actually, the most heartening aspect of the coverage was the realisation of just how much the digital debate has moved on in recent years.
There was, of course, a note of loss in much of the commentary. But what we didn't tend to see was the apocalyptic vision for newspaper brands that was a facet of the industry discourse even five years ago.
Within the space of about a week, we had the main Independent brand announcing it was going digital-only; its spin-off print brand, i, being sold to regional publisher Johnston Press, run by digital pioneer Ashley Highfield; while Trinity Mirror revealed its plans to launch The New Day, a new daily paper (print again, no website, but with a digital presence solely on social media) into the middle market.
No-one's head exploded. We've made it. At last. We've reached a point where leaders in the media sector accept news brand diversity and plurality as a fact of business life.
Paradoxically The Independent's decision to go digital-only, and the debate it provoked, convinced many that there's a future, and a very potent future at that, for print in the world of news provision.
For some publishers, print and online will continue to enjoy a mutually reinforcing, symbiotic relationship. In some cases, the print product will be free; in others, the cover price will be a significant source of revenue. Let's not lose sight of the fact that print's numbers, though declining, still remain rather attractive. We still buy seven million copies of print newspapers every day. Not many products can equal that.
Likewise, in the online world and on mobile platforms, some companies will rely heavily on micro-payments and subscriptions, while others will concentrate solely on advertising.
Some will make a virtue of heavyweight news and analysis, others will shade toward the entertainment and celebrity end of the spectrum. There will even be those who focus on one strength in print and another in the digital domain. And why wouldn't they?
One thing's for sure: debate surrounding The Independent's future has served to remind us how pervasive and important news brands are. They're woven right into the fabric of the nation. They're good at what they do, whether their virtues are grounded in the authoritative quality of analytical journalism or in the ability to entertain as well as inform. They play an important part in people's lives and drive the agenda and conversations in other media, from Twitter to TV.
One set of core strengths, many routes to market. Most understand that now. When it comes to possible futures for our business, we've just had our horizons broadened. Nothing's off-limits any more.
That's rather liberating, don't you think?
Rufus Olins is chief executive of Newsworks