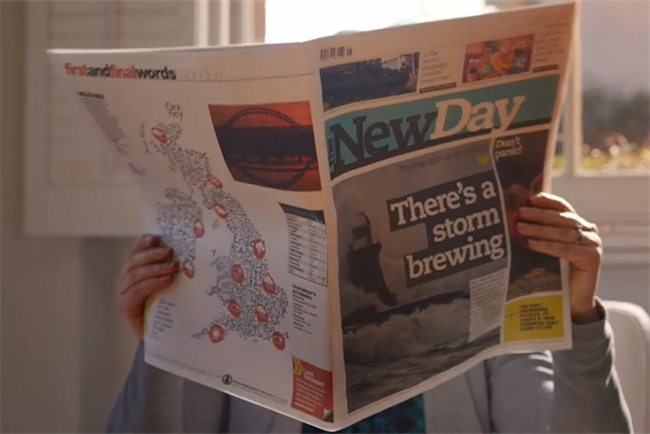 The New Day's last edition will be published tomorrow after sales fell below 40,000 – a far cry from the 200,000 target set by Simon Fox, Trinity Mirror's chief executive, for the end of the year.
Henry Daglish, the managing director of Arena Media, questioned whether there was ever a consumer need for the female-focused and politically neutral title and questioned what research Trinity Mirror did to identify a gap in an already saturated print market.
"I do wonder what research they did to identify a gap in this already saturated market. I don't think they nailed the insight, or got the proposition right," Daglish said. "Having said that, we should applaud the ambition.
"It is bold to launch something new in an established market and I think we should be encouraging positivity and entrepreneurialism in our industry - especially in the offline space.
"Ultimately, The New Day didn't resonate with readers, but that doesn't mean they shouldn't have tried."
The move was regarded as a "shame but hardly a shock" by Tim Irwin, the chief operating officer at Maxus UK, in a market where even the strongest newspapers are suffering a sales decline.
Irwin said: "A thinly resourced product, with no real point of editorial difference, no digital engagement, targeting an audience that had already migrated away from newspapers and trying to charge them 50p for the privilege is no surprise.
"And for once there is no smart hindsight here. One can only assume that Trinity saw the opportunity to experiment with a new model and will gain from the learnings."
Liz Duff, the head of broadcast at Total Media, said Trinity Mirror should learn from the success The New Day was able to achieve on Facebook and can take those learnings to improve digital output on its other titles.
She said: "It was a bold decision to launch a new print title in the face of a declining market, but also a brave move to close the title so soon after launch, acknowledging that the experiment hadn't proved to be successful.
"Audience behaviours are constantly evolving, and the print market needs to reflect the fact that a mobile-dependent audience will increasingly look for news sources online. Younger audiences in particular want to consume bite-sized snapshots of content rather than in-depth features, so the New Day print format wouldn't have resonated with them."
But Emma Dibben, the head of display at MEC, described the paper's launch as a "half-hearted affair" with "insufficient support and a minimal online presence".
She said: "It seemed that the main rationale for Trinity Mirror to launch was to plug a mid-market gap in the print portfolio following the failed attempt to purchase the Daily Express.

"This shouldn't be deemed as a negative story for newsbrands - it simply highlights that when launching a new media brand (no matter what the platform), audience insight linked to intelligent distribution is absolutely critical."
The lack of a digital presence was also highlighted by Mark Jackson, the managing director of MC&C, who said the brand's potential reach had been limited.
Jackson said: "Launching a paper is much like a media plan in many ways – it needs to be well thought out and integrated, and focusing solely on print and social has limited its effectiveness. We talk frequently of fragmentation of audiences, so distribution strategies need to be structured to drive performance across channels more than ever before."
He added: "In the same way as we see in advertising, the ability and ease of interacting and sharing content digitally often maximises the impact of more traditional channels, and a lack of this is likely to be a huge contributing factor to the closure of The New Day."
But will the failure of The New Day deter other print publishers from taking risks? Richard Cox, the co-founder of The Village Communications, said he hoped not because "innovation guides growth and it takes mettle to publish something new."
Cox added: "It was a bold, innovative concept with a fresh approach. Yes, there could have been more investment in promotion, and perhaps its proposition of reporting just good news wasn't feasible. News is news, neither positive nor negative.
"And, nine weeks is no time to allow a new initiative to grow. Products are organic and the best market research is when they launch…. I hope this closure doesn't deter others from taking risks in the future."