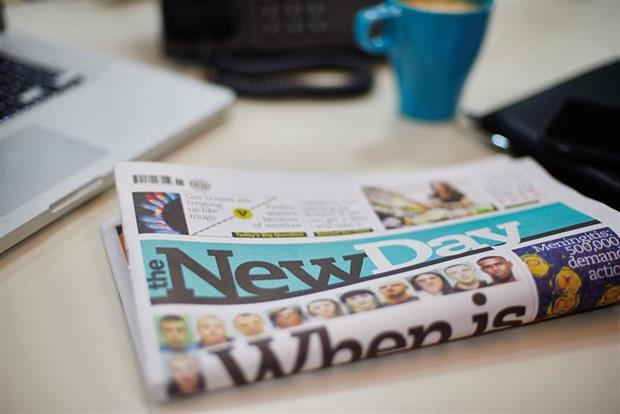 New Day to close nine weeks after launch
Daily newspaper the New Day, which was Britain's first new standalone national newspaper for 30 years, is to close tomorrow just nine weeks after launch.
Publisher Trinity Mirror called the decision "disappointing" but said it was necessary because circulation for the title was "below our expectations".
Trinity Mirror had hoped to sell about 200,000 copies of New Day each day, but sales are reported to have fallen to around 40,000.
In its trading update, the company said: "Although the New Day has received many supportive reviews and built a strong following on Facebook, the circulation for the title is below our expectations.
"Whilst disappointing, the launch and subsequent closure have provided new insights into enhancing our newspapers and a number of these opportunities will be considered over time."
Many observers have criticised the newspaper's proposition due to its lack of opinion – it had no leader column – and its focus on features rather than news.
Its pricing strategy was also called into question as it was only distributed for free on its first day before the price was raised to 25p and then hiked to 50p after the first two weeks.
This made it the same price as the rival i newspaper, which has substantially more news, and left it struggling to encourage people to migrate to it from freesheets such as the Metro.
Although the New Day had a social media presence, it did not have a website.
Source: BBC News
BT to invest £6bn in superfast broadband, 4G and customer servicw
BT has pledged to invest around £6bn over the next three years to improve its superfast broadband and 4G coverage, and overhaul its customer service.
The broadband investment would lift its coverage beyond 95% of the country by 2020.
BT also pledged to improve customer service, which will include initiatives including moving call centres back to the UK.
BT chief executive Gavin Patterson said: "Networks require money and a lot of it. Virgin and BT have both pledged to invest and we will now see if others follow our lead. Infrastructure competition is good for the UK and so is the current Openreach model whereby others can piggyback on our investment should they want to.
"Customer expectations are increasing all the time and we need to work hard to meet those new demands. That is why contact centre work is being returned to the UK and why Openreach is aiming to halve the number of missed appointments within a year."
The investment is believed to be a move to alleviate regulatory pressure from Ofcom.
Source: City AM
Morrisons builds sales momentum as recovery continues
Morrisons chief executive David Potts said the grocer is making progress towards its recovery after reporting a second consecutive quarter of like-for-like sales growth.
The UK's fourth biggest supermarket chain said like-for-like sales excluding fuel rose 0.7% in the 13 weeks to 1 May.
Total sales excluding fuel slipped 1.8% due to a number of store closures and the selling off of 140 M Local convenience stores.
Potts said: "There is still much to do and our colleagues are working very hard to improve the shopping trip and save customers every penny we can.
"Customers are responding and satisfaction levels remain ahead of last year. We are of course pleased with a second consecutive quarter of positive like-for-like sales, which demonstrates our aim to stabilise trade is taking effect."
Morrisons' free-from range recorded a 70% year-on-year sales rise, while its food-to-go sales jumped 17%.
Source: Daily Telegraph
Catch up with some of our longer reads...
As Marketing explores creativity and design in its April issue, editor Rachel Barnes discusses what creativity means in the digital age and why we should all embrace these "disruptive, messy, exciting and sometimes uncomfortable and challenging" times.
The queen of the high street discusses how advertising was the last thing on her mind when designing the retail experience.
Have a listen to the Marketing Mind podcast...
Domino's head of digital Nick Dutch, and Iris' head of planning Ben Essen join the podcast to talk about their experiences at SXSW, discussing everything from capitalism as a valid economic model to whether marketers can ever ethically use brainwave-reading headsets.