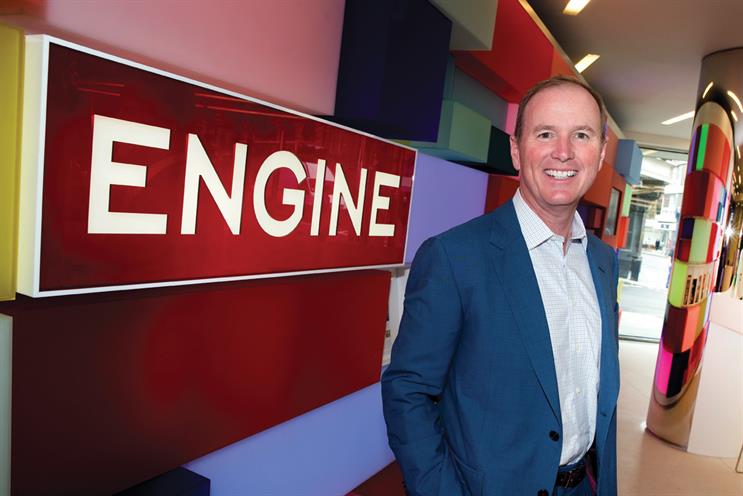 The most remarkable thing about Terry Graunke, whose Lake Capital private-equity company has acquired Engine in a £100 million deal, is that he neither thinks nor talks like a smash-and-grab corporate raider.
Not that he isn't a shrewd deal-maker. After all, this is the man who, 14 years ago, got Cordiant to pay an eye-watering $540 million for the Lighthouse group, a reckless splurge on Cordiant's part that contributed to its downfall.
In other ways, though, Graunke is no identikit private-equity investor. Some analysts interpret his appointment as Engine's executive chairman as a means of exerting complete control over the group's future sale, perhaps in as little as two years and certainly no more than five.
Graunke, though, is adamant that he won't be here today and gone tomorrow and that, when the time comes for Lake's investment to be monetised, it will be done in an ordered way with new investors in place.
Meanwhile, he insists: "I'm running the company and I intend to be doing it for a long time. I have no exit strategy or a timeline for one."
He has certainly gained the instant respect of Robin Wight, Engine's president, who marks out Graunke as one of the few private-equity bosses who understand the marketing sector because he is a product of it.
Graunke bears out this analysis. "I love rolling up my sleeves and getting involved," he says. "I love seeing clients and going to pitches." And he talks eagerly about harnessing the group's collective auto experience to plug the gap left by the recently departed BMW.
Meanwhile, he is laying plans to extend the group's presence in China (including capitalising on its expanding movie market) using Brazil to gain a foothold in Latin America, building more expertise in data, analytics and programmatic advertising, and introducing more IT into the UK operation to improve performance.
This hands-on approach has come to define how he invests in the marketing sector. "We come at it differently from other private-equity firms," he explains. "We get down to the financial aspects only after we're sure that it will be a good alliance for us strategically and culturally."
Some, though, take a more jaundiced view. "There are no obvious benefits for Engine in this deal," Bob Willott, the editor of Marketing Services Financial Intelligence, comments. "Lake's objective has to be to build a business it can sell."
Graunke dismisses any suggestion of a crude lumping together of businesses with the aim of a quick sale, describing it instead as "a well-crafted consolidation".
He points to what he claims are clear synergies between Trailer Park, Lake's entertainment and content marketing specialist, and Engine's Deep Focus, which together will create a compelling dig­ital content offering.
Add ORC International's research capability and the creative potency of WCRS and the range of the group's skillsets becomes obvious, he believes.
This certainly doesn't sound like get-rich-quick talk, but reflective of a more measured approach that seems to have shaped Graunke's way of doing business ever since he dropped out of college to start his own direct marketing company more than 30 years ago.
Today, he says he wants to shape Engine as a response to the game-changing developments he has witnessed in the sector since he began working in it – from the revolutionary impact of the microprocessor in the 80s and the internet during the following decade to the smartphone's arrival heralding a seismic change in purchasing decisions.
Graunke suggests that what's happening opens up new opportunities for nimble middle-market players such as Engine – which will have more than $400 million worth of revenue – to meet different client demands that the big holding companies, the products of a different era, find harder to satisfy. "Over the last 15 years, the middle market has been shrinking because so many of the players have been gobbled up," he argues. "We think there are real opportunities for us."
Not that Engine's arrival in Lake's stable has been completely smooth and without controversy, even though Graunke and Peter Scott, Engine's chairman, have been friends since they first went shooting together in 1998.
Subsequently, Graunke helped Scott in an aborted attempt to buy a US agency. And after what became Engine bought its freedom from Havas, the pair had a conversation about a possible deal. "I wasn't interested," Graunke recalls. "At the time, it was just WCRS. I wanted a bigger group."
Even as the takeover was about to be completed, a potential deal-breaker emerged as ex-Engine employees baulked at being offered less for their shares than existing staff. Graunke claims the media blew the spat out of proportion before it was swiftly settled.
The tactic might have been legal, but was it moral? Graunke has no doubts that it was. But while he may talk the talk of a marketer, he can still walk the walk of a clever deal-maker.
Engine's new family
Lake Capital
Company type: Private equity
Founded: 1998
Headquarters: Chicago
Key people: Terry Graunke, co-founder; Paul Yovovich, co-founder

Having made a fortune collecting and selling marketing businesses, Lake's Graunke has a knowledge of the UK marketing sector that his larger private-equity peers in the US can't match.
Maybe that's why Lake is one of the few US private-equity houses currently active in the UK market.
Jim Houghton, a partner at the merger-and-acquisition specialist Results International, says: "In the US, the large players have been replaced by smaller, niche private-equity firms in the middle market that are lesser-known but making bets that certain forms of digital marketing and data/direct/consumer marketing will dominate in the coming years."
Trailer Park
Company type: Entertainment and content marketing
Founded: 1994
Headquarters: Hollywood
Key people: Rick Eiserman, chief executive; Doug Troy, chief operating officer

Trailer Park, established to make trailers mainly for movies, claims to be the biggest creative services company in the industry, having expanded into advertising and branding, home entertainment, print and digital.
Eiserman was previously the managing director of Young & Rubicam Southern California. Troy is a former senior vice-president at Interpublic.
Lake Capital began investing in Trailer Park in 2005. Its client list ranges from Hollywood studios to brands such as Microsoft and Toshiba.
ORC International
Company type: Market research
Founded: 1938
Headquarters: London
Key people: Simon Kooyman, chief executive; Richard Cornelius, managing director

Founded jointly by the legendary pollster George Gallup and Claude Hopkins, ORC expanded into the UK from the US in 1992 when it acquired Research by Telephone.
Infogroup acquired ORC in 2006. Four years later, it was sold to a group of ORC senior managers backed by Lake Capital.
Toshiba: one of the clients of the Hollywood-based Trailer Park