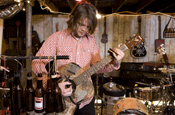 True Dedication is part of an overall strategy from Budweiser to recognise people's individual passion and interests.

The new ad, produced by 2AM Films, features a group of musicians that tell the story about their dedication to music.

Directed by Harmony Korine, the screenwriter of Kids, the ads will target young adult viewers and be followed by cinema spots in June.

The print campaign will carry the same theme and feature musicians from the television ad.

The campaign will also run in across outdoor, tube and experiential marketing with direct marketing by KLP and Cubo and digital by Jigsaw and Hyper.

Credits

Project name: True Dedication
Creative agency: Fallon London
Client: Vicki Kipling, Marketing Director, Anheuser-Busch (Europe) Ltd.
Brief: Encapsulate Budweiser's passion and dedication
Executive Creative Director: Richard Flintham
Creatives: John Allison and Chris Bovill
Agency Producer: Jo Charlesworth
Planner: Stephanie Newman and Gareth Goodall
Group Account Director: Alex Best
Production Company: 2AM Films
Director: Harmony Korine
Editor: Leo Scott at Speade
Post-production: The Mill
Audio post-production: Jungle
Media Agency: Busch Media Group Europe