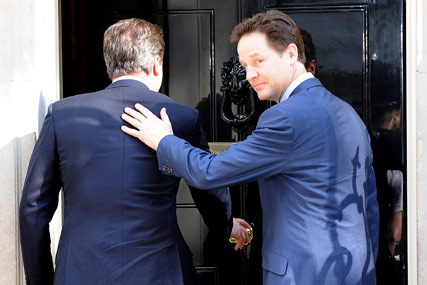 The squeeze could start immediately after the Liberal Democrats made a swift U-turn on their election manifesto by accepting Tory plans to cut public spending by £6 billion in the current year.
The first details may be included in the Chancellor George Osborne's emergency Budget within the next two months. Although no decisions have been taken yet, a senior Tory said: "There will be a big drive to cut out waste and there is no doubt that some advertising campaigns are seen as low-hanging fruit."
Andrew Lansley, who was appointed Health Secretary on Wednesday, believes that some of the public health campaigns run by the Labour government at a cost of £50 million a year were a waste of money. His targets could include Change4Life, which aims to encourage people to lead healthier lives, and campaigns to discourage smoking and excessive drinking.
Osborne pledged before the election to reduce COI's £391 million budget in 2007-08 to £163 million, its 1996-97 level in today's money.
Some cuts will be in the in-tray of incoming ministers. Under Labour, the Treasury ordered departments to cut their marketing budgets by 25 per cent by 2012-13 - but the Tories pointed out that this would have been based on the "high watermark" of the 2009-10 financial year.
Meanwhile, Jeremy Hunt, the former Tory Shadow Culture Secretary, was expected to be appointed to the role in the new Cabinet.