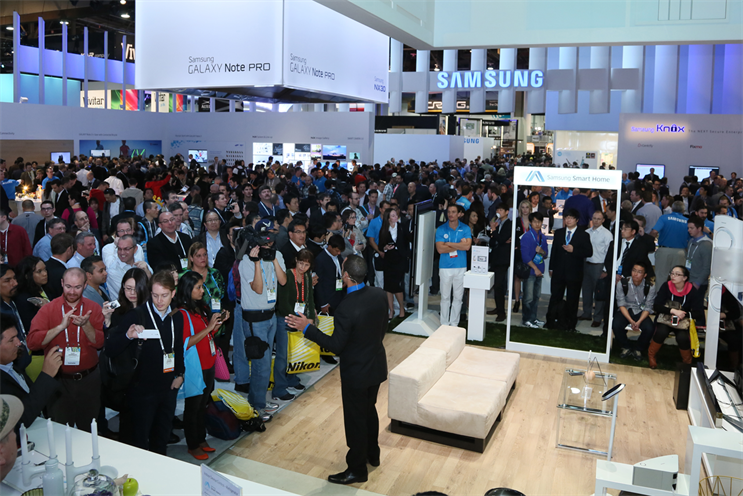 There were some standout themes at this year's Consumer Electronics Show in Las Vegas: make everything smart and connective; merge various devices; and make them wearable. I did not see the one game-changing piece of tech, but there have been tons of tweaks to current innovations that make them cooler, smarter and more useful, with sig­nificant marketing potential.
The well-reported new wave of "wearable technology" offers plenty of brand tie-ins – from the obvious (sports and fitness) to wide-ranging lifestyle areas such as fashion (think a Burberry-themed Fitbit or Chanel designs with integrated technology) and travel (track the number of steps you take in six months to be in shape before a cruise – and if you meet your goal, Royal Caribbean upgrades you to a larger cabin).
In shorthand that has become de rigueur for reporting on such events, I've picked three other key concepts explored at CES.
Connected homes
The concept of a connected home – and, by extension, the "internet of things" – has the potential to be the most transformational development in the world of consumer technology for several years. Samsung is the clear leader: its "smart home" connects appliances to home networks and consumers' smartphones, listening to their needs. Tell your watch that you're going out and the system turns off lights, activates your robotic vacuum cleaner, even starts the laundry.
While work remains to be done on integration, there are obvious opportunities for CPG/FMCG brands here (think smart fridges that alert their owners to dwindling supplies) – and for the likes of AT&T, T-Mobile, Intel and Cisco to connect the dots. Watch this space.
Social TV
We all know that social media is radically changing TV consumption, discovery and measurement. The next phase sees TV become truly social as people monitor feedback from social feeds such as Twitter in real time (on the same screen alongside favourite programmes), or watch TV with friends and family via Skype.
There's clear potential for all sorts of brands to align with TV programmes outside of the ad break, as social content enters viewers' field of vision. So, the viewer could be invited to visit B&Q just at the moment they are inspired by a stunning kitchen on Grand Designs. Real time…real potential.
Cars as connected devices
Hands down the coolest piece of car tech on display was a roadster Tesla outfitted with a solar panel array instead of a passenger seat (although not intended to power the car itself, the mobile solar array looks amazing and is a neat way to generate energy).
The game-changing theme, however, was cars as connected devices.
The concept of cars as important pieces of everyday mobile tech became reality as Apple and Google announced alliances with car-makers (Apple with BMW and Mercedes-Benz; Google with Audi, Honda, General Motors and Hyundai).
Google's "Open Auto Alliance" would bring Android directly to in-car technology. This means music, apps and more will find a way on to the dashboard for hands-free use via the car's built-in controls – no more messing about with smartphone buttons.
Cue tons of third-party application development, and – if cars do indeed become the next critical mobile device – expect to see location-based recommendations for retailers and hospitality businesses, technology integrations and a host of entertainment and content partnerships.

Jason Harrison is the chief information officer at Maxus