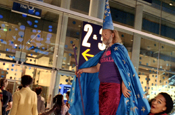 Called The Big Tackle With Austin Healey, the ad-funded programme will air on ITV1 and ITV4, starting in mid-March, and has been scheduled for a six-week run.

The show, which will feature Healey visiting five rugby clubs around the country in a bid to improve their fortunes, has been commissioned to emphasise O2's links with rugby.

Fully funded by O2, The Big Tackle concept was de-veloped by the agency Sport Entertainment, which has worked with Drum PHD, O2's sponsorship agency, on bringing the idea to air.

The production company North One is about to start filming the programme.

Nick Fletcher, the head of sports sponsorship at O2, said the programme would build on O2's sponsorship of the England rugby team and its "grassroots to glory" support for English rugby.