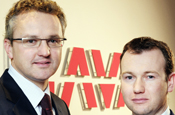 The new Havas Digital co-chief executive officers replace the former chief executive Don Epperson, who is leaving the group to pursue personal projects.

Saenz de Buruaga and Rhind were previously the chief operating officer and chief strategy officer with Havas Digital.

In their new roles, which take effect at the end of this month, they will focus on client services, product development and new initiatives.

Alfonso Rodés, the chief executive of Havas Media, said: "Joint management structures and teams have worked exceptionally well for us in the group and we are delighted that these dynamic and talented managers will be taking us forward."
He added: "Don Epperson has been a great advocate of change and helped us instil a strong culture, which, thanks to his hard work and emphasis on collaboration, will live on within the teams after his departure."

Saenz de Buruaga joined Havas Digital in 2005 and Rhind has been with Havas Digital since 2001.