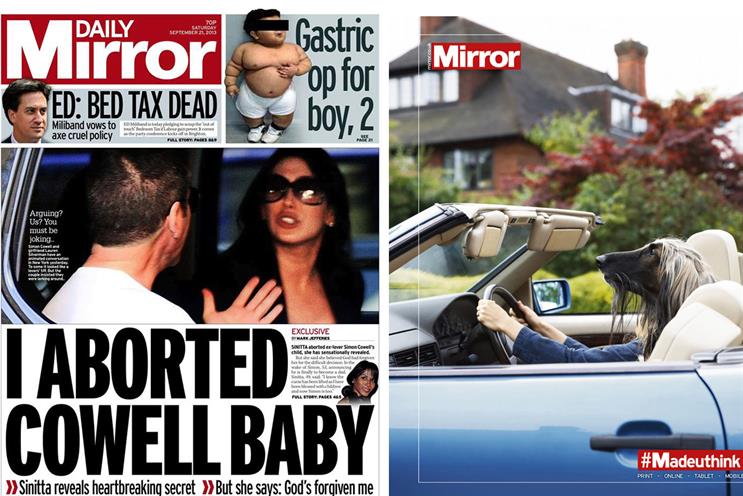 The Daily Mirror and Sunday Mirror have had subtle makeovers as the 110-year-old news brand hopes to exploit a new positioning between its tabloid and mid-market rivals.
The redesigned papers are cleaner, with new fonts and colour palettes and more white space. Headlines no longer shout quite so much, with smaller capital letters and lighter fonts.
It represents their first re­design since 2007 and is being accompanied by a six-week, multiplatform campaign, created by Quiet Storm, around "#Madeuthink". And making us "think" is precisely what Trinity Mirror believes sets its newspapers apart from their rivals.
Speaking to Campaign, Lloyd Embley, the editor-in-chief of the papers, says: "From a design point of view, it's more of an evolutionary process. A lot of people tend to put all the redtops in the same basket. We feel that we sit between the Daily Star, The Sun and the Daily Mail in a 'mid-top' kind of place. Re­inforcing the difference between the Mirror titles and the other tabloids is the combined aim of the brand campaign and the new look."
Despite enjoying rave reviews for the revamp from some unexpected quarters, Embley, who took editorial control of both Mirror titles 16 months ago, remains pragmatic about where his real focus should lie. "It's a cosmetic change," he says. "Changing the fonts on the Daily Mirror is not going to change the fortunes of Trinity Mirror as a company long term. And, clearly, getting the digital thing right is going to have a greater impact."
Digital innovation is not a space in which Trinity Mirror has excelled in the past. You only have to cast your mind back four years to recall a time when Mirror Digital Group had yet to hit double-digit millions in terms of unique browsers, while its rivals Mail Online and The Sun Online were attracting 30 million and 23 million respectively.
'There is an opportunity for us in The Sun going behind a paywall'
Digital was at best an after-thought for a Sly Bailey-led Trinity Mirror, and Embley, who has been with the group for 19 years, admits "we were a bit behind the curve in getting things going". But the group is trying to make up for lost time. Working closely with the chief executive, Simon Fox, who joined in September last year, scale is now the name of the game for the publisher.
Trinity Mirror ringfenced £8 million for digital investment in 2013, including the hiring of 25 digital-specific journalists in the past two months alone. Their remits are clear: to focus on the web and social media to create more stories that will generate more traffic.
Further reach is coming from the Daily Mirror's e-edition, treated as an extension of the print product and said to be attracting around 30,000 unique users a day, from a regular pool of about 60,000, and growing.
"There is an opportunity for us in The Sun going behind a paywall," Embley says. "Our traffic has grown from 16.5 million unique users in February to 32 million in August. We're hoping to get to 50 million by early 2015. If we're anywhere near that at the end of 2014, it'll be a result for us."
He adds: "If you looked at our digital traffic projections for 2014/2015 from only six months ago, we're going to blow that out the water – we already have."