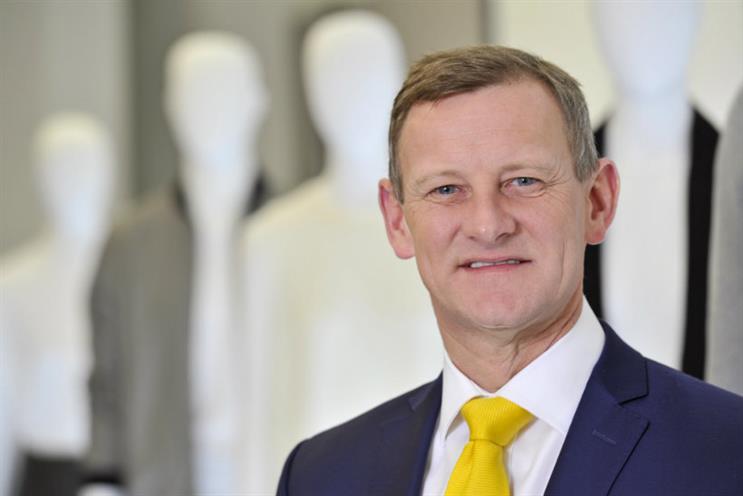 The decline isn't a surprise - sales have now fallen for 18 out of the last 19 quarters.
And it isn't all doom and gloom for Rowe, who succeeded Marc Bolland at the weekend. Group sales were up 1.9%, thanks to 8% growth in m&s.com and food sales were up 4% - though like-for-like food sales were flat, which will be seen as disappointing.
Rowe made a big statement of intent by announcing he would retain personal control of general merchandising - the role he has held since last summer - and clearly believes that improving tthe proposition to customers can turn its performance around.
"Customers are telling us we've got to do more work on pricing, more on style and more on ranging," he said this morning. "If we run things in the right way for the customer, the shareholder benefits too."
It's time to update M&S' stores
It may just be the fresh wind of change, but Rowe's optimism has caused at least some positive responses from analysts.
"We have a good feeling about Rowe," says James McGregor, partner at Retail Remedy. "He has spent time in stores, has delivered food success and has started his first week in the best possible place, in stores with colleagues and customers.
"A review of the M&S target customer is overdue, the customer that visits the food hall, has disposable income, is already frequently visiting stores and can easily and inexpensively be acquired and converted with the right ranges."
McGregor says M&S could improve its offer with moves such as sourcing higher quality fabrics from sustainable sources, and upgrading the more old-fashioned and less inviting parts of the store network.
George Wainwright, partner and creative director at PWW, thinks that when it comes to store design, Rowe should pursue a radical rethink.
"M&S has to disrupt the retail industry by doing something radically different," he says. "Whether what they do is right or wrong, it doesn't actually matter; it just has to be seen as a drastic change from where they are today."
PWW's ideas on how a future M&S store might look can be seen below.
Say quality more, and fashion less
There's almost something inherently contradictory in the idea of M&S holding on to its dominant share of the market in clothing.
To reinvigorate the M&S brand, says Daniel Ward-Murphy, strategy director at Thinking Juice, Rowe should focus on its core selling point: quality.
"In terms of their clothing offering, I do think they suffer from some comparative price-point issues - and it's probably safe to say that their huge investment in celebrity endorsement over the last 10 years hasn't quite reaped the rewards they would have hoped for in terms of improving brand regard," he says.
"It is not all doom and gloom for them as any frumpy perception hangover from times gone past can be overcome by appealing to a new generation of buyers.
"They need to nail down and deliver a consistent brand proposition for clothing over time. It will take years and they will need to deliver against it. They should say quality more – what they were always known for – and fashion less."
There's no return to the salad days
For some, though, talk of a focus on quality and improving the range is overlooking Rowe's white elephant: the world has changed. For Jim Prior, chief executive at The Partners and Lambie-Nairn, M&S has been the victim of a fundamental shift in what consumers want from clothing retailers - and his prognosis is bleak.
"It's very easy to be the nation's favourite when there's an absence of choice in the market," he says. "M&S's heydey was in an era when there was very little choice - they were the leader because they were the only brand that had really worked out how to provide a very broad, well-sourced, well-priced range to everybody. Those days are gone."
Prior believes investors and consumers ought to cut the retailer more slack.
"We're very quick to criticise businesses that were once doing amazingly well and are now doing slightly less than amazingly well, but in pure performance terms M&S is still a very good businesses," Prior argues.
"To some extent I think business and society need to change the way they look at things - we need to look at more metrics than just how a business performs from one quarter to another, and consider a broader set of criteria."
Expand into health, technology and wellbeing
It sends a powerful signal that Rowe is going to retain responsibility for clothing - that's possibly one of the most powerful things he can do at the moment.
Rowe may not be inclined to approach his job philosophically, but he needs to "accept that there is no longer a role for a mass, mid-market fashion retailer in this country," according to one senior figure at a major UK creative agency.
"You have this situation now, where people, and women particularly, aren't interested in buying fashion from a mass fashion retailer that has this dominant share of the market, because they don't want to be wearing stuff that everyone else is wearing," the source argues.
"So there's almost something inherently contradictory in the idea of M&S holding on to its dominant share of the market in clothing."
The source adds: "They ought to be thinking about the way that people live these days, and the fact that people are investing much more in their homes, in technology within their homes, but also further afield in lifestyle - what about health and wellbeing?
"Those are areas where I don't think it's a stretch for M&S to enter, and where they can operate at a premium. They can operate in those areas because they are populist - they are for everyone - and they've always used their scale to make things that were expensive more accessible to more people."
Tighten up the clothing ranges
But 18 quarters of decline or not, plenty of commentators believe the clothing business has a bright future.
Russ Lidstone, consultant and former chief executive of Havas Worldwide, says that while there is plenty still to be done, Rowe may have already taken the most important step.
Lidstone acknowledges that "even with its development of different brands" in its clothing offer, M&S finds itself in "a classic situation where it is stuck in the middle, attacked from different directions," but adds that "a lot of the fundamentals that are in place now are a lot stronger" than in recent years.
So what should Rowe be doing? "There's a price and value issue that he needs to address - he's already done some good work on reducing the prices of basics. Now, what I think we might see is a simpler focus on quality, value, and clearly defined ranges," says Lidstone.
"It sends a powerful signal that he's going to retain that responsibility [for general merchandising] - that's possibly one of the most powerful things he can do at the moment. But some of the fundamentals like distribution, the online offer and the supply chain have already been addressed - so in that respect, they're already in good shape."
And McGregor believes one thing Rowe brings to his new role is a healthy attitude.
"Rowe has an opportunity to blame previous leadership but we doubt he will," he says. "Instead he will be tenacious in his forward thinking: you cannot change the past, just learn from it."