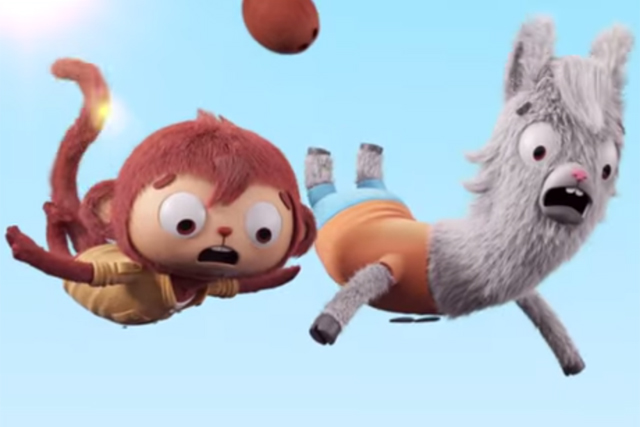 I recently saw a charming animated short film. It was the comically dramatic story of a cheeky monkey and an endearing llama, stranded on a desert island. They are down to their last coconut.
I imagined it might be a new commission for CBeebies or Nick Jr, so picture my surprise when salvation for the furry protagonists comes not only in the form of a long-lashed simian love interest but a carton of Alpro coconut drink. "It's an ad", we gasped. But why couldn't it have been a new children's TV series? It has the requisite charm, humour and lovable characters.
This highlights an issue that has been running around in my head a lot recently: who is driving the content agenda? Once broadcasters had complete monopoly over what people watched and when: now everyone from Joe Bloggs to Jo Malone has access to the technology and platforms from which to potentially 'broadcast' their content.
And the result is that audiences can choose what they want to watch, when, and where: the so-called democratisation of content. So, much as they would like to, it is neither broadcasters nor brands that are driving the agenda, but the all-powerful audiences who can vote with their feet (/eyes/mice).
An example of this is the internet phenomenon that has blown up around 'First kiss' the (originally unbranded) content from the achingly cool Wren jeans (see below). The short film was posted four months ago and already has 88m views and hundreds of parodies (with millions of views in their own right) created by everyone from the man/woman in the street to Funny or Die, in association with Kohler toilets – well worth a watch if you enjoy a little toilet humour.
These are viewing figures many broadcasters can only dream of. US TV network Showtime, has made a sequel its own; 'Undress Me', which uses the very same director, concept, and black and white production as the original piece of (un)branded content from Wren, to promote the new season of its hit series 'Masters of Sex'. Broadcasters imitating branded content makers? Whatever next? Films being made for the completely open market? Documentaries that could be bought by a brand just as readily as a broadcaster?
Our own co-produced documentary, '100 seconds to beat the world: the David Rudisha story' which premiered on BBC Four, could just as easily have been bought by a brand that wanted to align itself with athletics or the laudable values of tenacity, endurance and belief. Even the PR department of the Catholic Church (do they have one?), should probably have been interested if they wanted to shine a light on one of their pioneers doing something amazing for the community they serve and doing so with great humour and respect.
Talk of the church, humour and community, I think, gives me permission to reference something a little unseasonal… Christmas. Quiet your inner Scrooge though, this is charming stuff. A film born of a story from the innocent year of 1897, when a little girl called Virginia wrote a letter to The Sun newspaper in New York and asked 'if Santa Claus was real'. They famously responded: "Yes Virginia, there is a Santa Claus."
Over a century later, Macy's picked up on this tale and went to CBS, America's number one TV network, with a pitch for a 30 minute prime time animated Christmas special, based on the true story of Virginia O'Hanlon and crafted in the spirit of the old holiday classics (see below). It drew nearly 4m viewers and is now an annual feature of Christmas in NYC. Macy's has created a world of books, DVDs, theatre productions and even packs for schools to help them put on the 'Yes, Virginia' play. Enjoy it for yourself in instalments on YouTube: 1, 2 & 3. Well worth a watch with the believers in your household.
Ultimately, the goal of any good (branded) content should be to create something that would be watched by a willing and mobile audience, regardless of who made it. Could not any brand with a commercial or philosophical interest in festive goodwill have given us The Snowman or its sequel? Of course, stories are not just for Christmas, and as this audience-led chapter unfolds it will be interesting to see in which direction our new masters wish to travel.